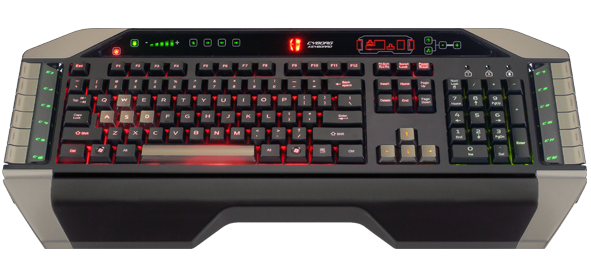 Witness the true power of Cyborg and take your gaming to the next level with the Cyborg Keyboard range. When performance is key, customisation is vital, and losing is not an option, only Cyborg brings the power you crave.
Built for 21st century gaming, the V.7 embodies the true essence of the Cyborg range.
Multi-color Backlighting – Tru-VuT illuminations allow you to set the mood and illuminate your world, mixing shades from Red through Amber to Green.
Touch-sensitive, backlit dashboard Control Panel
Configure your lighting, media and volume controls with the brush of a finger.
WASD, cursor, 'Cyborg' and NumPad keys can be lit independently from the rest of the keyboard to highlight commonly used gaming keys
Set each area to your preferred color or brightness to make the keyboard battle ready.
See more features here: http://www.cyborggaming.com/prod/v7keyboard.htm
The winner of this prize will be announced on our Facebook page on Thursday May 31. Good luck!