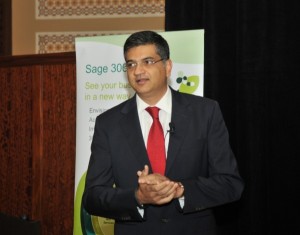 Sage ERP Accpac was one of Sage's flagship solutions in the ERP domain and one of its most successful products in the Middle East, so the company was understandably keen to reassure partners that the newly christened Sage 300 ERP will be just as lucrative.
The event, which was well attended by Sage partners and select customers, including Sage development partners from different parts of the world, took place at the Madinat Jumeirah conference hall in Dubai.
Some of the highlights included high-level presentations on the various vertical solutions available, including manufacturing, distribution and services, allowing customers to leverage their existing investments in Sage ERP.
"Sage 300 ERP provides power, insight and flexibility," said Vikram Suri, Managing Director, Sage Middle East, who was the event's keynote speaker and had led Sage ME for four years. "While traditional ERP software solutions provide an automation platform that connects the functional areas of your business – accounting, distribution, or warehouse and manufacturing – modern ERP software solutions have evolved to also include sales, marketing, customer service and business analytics.
"This is achieved through business intelligence and real-time KPI dashboards. Sage 300 ERP solutions deliver the best of both worlds."
Suri reminded the audience that Sage continues to lead in the growing mid-market and that its strengths in the region can be attributed to its "local" way of operating.
"We lead with a passion," he said. "We can show customers and partners that our technology works and is here to stay.
"We have the flexibility to operate locally. We operate in this region like running our own business so that we have the flexibility to personally reach out to all of our customers and partners."
He also thanked Sage's partners for their support, which, he said, is vital to its success in the Middle East and around the world.
"One of the most important things to us is our partner ecosystem," he said. "We are only as strong as our partner network, so I cannot thank them enough for their support.
"It's only with their presence and continued support that we are here today. We are a very close group and family, and we encourage partners to give us suggestions on how we can improve and work better together. That's also how we encourage our partners to work with customers."
The event showcased the capability to develop on the Sage platform and deliver solutions for things like workflow, document management and asset maintenance.
"Sage 300 ERP is focused on meeting the demanding business needs of the mid-market businesses in this region and provides the scalability to grow with the business needs, while being cost effective to ensure a low TCO," said Murali Arumugam, Business Head, Sage 300 ERP.
Some of the developers participating in the event included Systronics from the UAE, Pacific Technology Solutions from New Zealand, Draycir from the UK, Orchid from Australia, AutoSimply, and Norming from China. Sage-authorised partners from the UAE, Oman, Qatar, Kuwait, Bahrain and Saudi Arabia also took part in the event.
"We are excited by the new version of Sage 300 ERP as it builds on the stability that our customers are used to while incorporating the new trends in technology embracing mobile and collaboration tools," said Mansoor Sarwar, Practice Head, Sage 300 ERP.
Sarwar was keen to add that, while Sage has gone through an international rebranding drive so customers can identify with products more easily, the core foundations of the product remain.
Over 6.3 billion customers use Sage ERP and CRM solutions worldwide and the group employs over 14,000 professionals.
Sage's total revenue in AAMEA (Asia, Australia, Middle East and Africa) grew by 10 percent to £152.7m in 2012, compared to £138.2m in 2011. Organic revenue grew 12 percent, compared to 10 percent growth in 2011.
"The last fiscal year, we were the fastest growing region in the world," Suri said. "A lot of us who live in Dubai often hear that we are the centre of now and the world, where all the action is happening. So there is a huge opportunity both for our partner community and our customers in this part of the world."