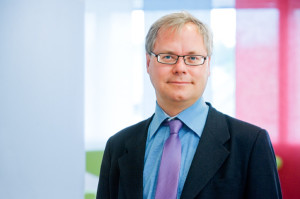 At the recently concluded security event, Intersec, Martin Gren, Co-founder, Axis Communication, says he doesn't consider the region to be an emerging market as the uptake of technology is a lot faster here.
Could you discuss the business focus for 2014?
Our focus is to come out with even more innovative products. We have set image usability as the theme, we hope to produce clear pictures, which can be served as material for evidence in investigative cases. Through the good quality images, one can zoom in to see even the minute details, so that nothing is missed out. Here in the UAE, we are very strong and we are working with other countries in the region, for example, Qatar and Saudi Arabia.
How has the response been towards IP-based cameras in the region? Are customers willing to transition from analog-based cameras?
The Middle East region is one of the fastest-growing regions in the world, which has the highest penetration of IP cameras. It is the absolute opposite of more mature markets such as the UK where it is still dominantly an analog country.
Do you see any uniqueness with this market?
The biggest difference in this region is that the IP penetration is so high here. We don't consider this to be an emerging market at all, it is a mature market for us. If you compare the Middle East to other emerging markets, it is very different as the uptake and adoption of new technology is a lot faster here.
Could you discuss who your customers are in this region?
Retail is one of the stronger verticals, the future with the world cup and expo is sure to boost the infrastructure and that will lead to further demand in security cameras.
Could you discuss the channel expansion strategy in place within this market?
Axis has always had the same channel strategy―two-tiered distribution. This essentially means, the flow will be from Axis to its distributors then to its systems integrators and finally to the end users; and we never ever make an exception to that rule. This means, our partners can always trust us because we will always be loyal to the channel. Unlike a big company who changes the distribution strategy every year, we have a consistent one in place. And I would say this is actually one of the main reasons for our success.
What are your differentiators from your competitors?
As we are the leader in the industry, this means most of our competition is actually following us. We innovate in image quality, aesthetics, HD cameras and so on.
Have you launched any new products recently?
We have a new product, which is designed beautifully. What usually happens is that many times when a new building is constructed, it might have a great architectural design, but when the security camera is put up, it doesn't match the design of the building. It stands out like a sore thumb. In our new product range, we have spent a lot of time trying to make them blend in much more nicely with the building and the architecture. To be able to do this, our new product line can be painted over to make them more discreet.