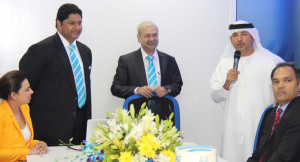 Ace Global, a fast growing shipping and logistics company which is a part of Spectrum Group, inaugurated its new office last month in the presence of their key regional partners. The new premises is in Mazaya  Business Avenue, JLT and was inaugurated by Abdulla Bin Damithan, Director, Container Terminal, DP World, which is also the key regional hub for Ace Global lines.
Ajay Chauhan, CEO, Comguard,  together with Lawrence Fernandes, Co-founder and CEO, Ace Global launched the company about a year ago with a goal to be the region's leading 'niche logistics' operator.
The opening of the new office at JLT coincides with the launch of Ace's new 'Direct Cold Chain & Liquid Bulk Shuttle Service' linking the west coast of India to the Middle East via the key logistics hub of Jebel Ali. The new service commencing in August 2014, links India's key western gateway ports of Nhava Sheva, Mundra and Cochin with the Middle East.
Fernandes said, "We are one of the fastest growing regional shipping and logistics operators. What differentiates us is that there are very few companies who have the ability to deliver more than one type of product and we specialise in cold chain, liquid bulk chain and also dry cargo". He added " Our state-of-the-art equipment which are incidentally all brand new, give our customers unsurpassed quality of service and our swift growth is a testimony to our customers satisfaction and acceptance of our services"
Working through a set of specialised global partners, the shipping company mobilises and moves the cargoes based on the custom-made requirements of the exporters and importers in various countries. "Logistics is a complex business. Everyone plays a role in the chain, it's a pretty big chain. We are one of the key parts of the chain, being the operator with high-value assets deployed. We are the operator who mobilise cargo by all transport modes, that's our specialty," explained Fernandes.
With operations in the Indian subcontinent and the Middle East, Fernandes believes it is critical to offer a world-class product even if it is on a small-scale. "We have grown rather fast and ahead of our expectations. Our business is supported by IT and this inaugural event is also an opportunity for us to thank our key partners," he said. "Everything is high technology, our strength is not letting the customer get boggled with the technology, but simplifying the logistics chain."
Having commenced operations in Dubai, Fernandes said it is the right place to be in especially with Expo 2020 coming up. He added, "The market conditions are conducive to growth and we are taking advantage of that. There are hardly any IT companies involved in shipping. Comguard, our sister concern, is well known in the information security space with products catering to End Point Security and encryption, UTM, DLP, Web Filtering, Privilege Identity and Access Management, Single Sign on, Multi factor Authentication, to name a few among others. Another subsidiary of the Group, Psilog, is focused on the port and terminals, retail and enterprise mobility segment, supplying the RFID and wireless infrastructure to many corporates in the region, including DP World. Ace Global Lines and Spectrum Group are surging ahead and carving a niche in this region."