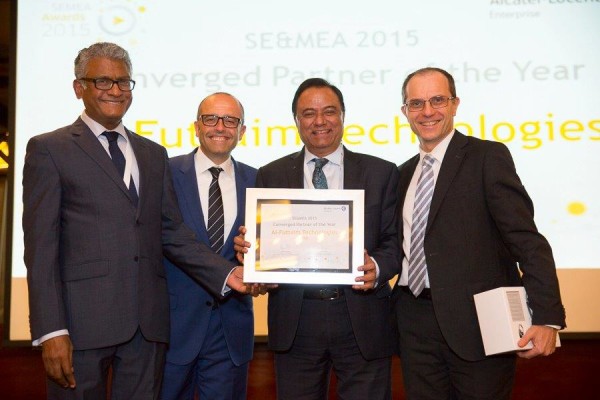 Al-Futtaim Technologies has won the award for Converged Partner of the Year at Alcatel Lucent Enterprise's (ALE) annual Partner Day held recently in Dubai.
The award was presented by Marco Pasculli, Vice President, Channel Sales for SEMEA; and Moreno Ciboldi, Vice President and Sales Leader for SEMEA from Alcatel Lucent Enterprise to Dawood Bin Ozair, Senior Managing Director, Al-Futtaim Engineering and Technologies; and Venkat Raghavan, General Manager, Al-Futtaim Technologies.
Raghavan of Al-Futtaim Technologies said, "We are extremely delighted to receive this recognition from our partner Alcatel Lucent Enterprise. This award is further testament to our commitment and ability to deliver best-in-class products and services to our customers. We are confident this award will motivate us to work even harder to ensure we provide added value to all our customers."
Al-Futtaim Technologies, whilst winning this important category was also the finalist in two other categories – the only partner to be nominated in a total of three categories across the region of South Europe, Middle East and Africa. The other two categories were best project implementation and best installed base programme.