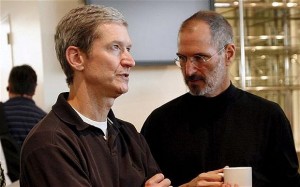 Apple CEO Tim Cook received an estimated $376 million in stock bonuses when he took over the post in August, it has been revealed.
The "promotion and retention award" is made up of one million restricted stock units (RSU). So long as Cook stays employed at Apple, half of the stocks can be vested in August 2016, and the other half in August 2021.
Cook's $900,017 salary, $900,000 cash bonus and $16,520 in other perks bring his total 2011 compensation package to a value of $378 million.
The figures were revealed in Apple's 2012 proxy statement filed on Monday. It noted in the statement: "In light of Tim Cook's experience with the Company, including his leadership during Steve Jobs's prior leaves of absence, the Board views his retention as CEO as critical to the Company's success and smooth leadership transition.
"The RSU award is intended as a long-term retention incentive for Tim Cook, and, accordingly, should be viewed as compensation over the 10-year vesting period and not solely as compensation for 2011."
Cook's package is in stark contrast to his predecessor Steve Jobs, who passed away on Oct. 5, 2011, who for years declined any awards or bonuses.
It also eclipses Cook's compensation of the previous year which, including stock awards valued at $52.3 million, amounted to $59.1 million.
Apple's revelation came on the same day its shares reached a new high of $427.75.
In its 2011 fiscal year their revenue grew to $108.2 billion, a 66% increases on their $65.2 billion revenue in 2010. Net income grew to $25.9 billion, an 85% gain on 2010's $14 billion.