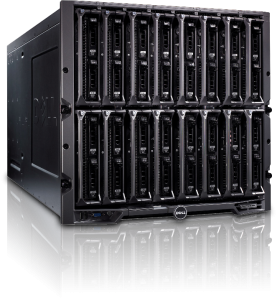 Brocade has announced a partnership with Dell in the hope of offering the industry's first complete, end-to-end 16 Gbps Fibre Channel (FC) solution based on Dell Compellent.
The solution includes servers, switches, and storage, and aims to double bandwidth for business critical applications within highly virtualised data centre environments.
The end-to-end 16 Gbps FC solution is built around Dell Compellent SC8000 storage arrays and includes a next-generation 16 Gbps Fibre Channel IO module for the array, a new Dell Compellent Storage Center 6.3 software, and Brocade M6505 16 Gbps FC embedded SAN I/O module by Dell, which enables Dell PowerEdge M1000e Blade Enclosures to directly connect to the higher bandwidth-capable Compellent storage arrays.
The Brocade M6505 SAN I/O module configurable in 12 or 24 ports and supporting 4, 8 or 16 Gbps speeds, provides enterprise-class functionality for Dell PowerEdge M1000e Blade Enclosures and excellent price/performance value.
It complements other Brocade SAN products offered by Dell, including the Brocade 6510 Switch and the Brocade DCX 8510 Backbone.
"Driven by the deployment of cloud and virtualisation, storage continues to grow at unprecedented levels and demand for Fibre Channel storage technology is increasing, along with an accelerated adoption of 16 Gbps-based SAN products," said Jason Nolet, Vice President, Data Center Networking Group, at Brocade.
"The availability of end-to-end Dell Compellent 16 Gbps storage solutions will further this trend and strengthens our long-term partnership by combining a powerful data movement engine, intelligent software and Brocade's industry-leading Fibre Channel switch technology to allow enterprises to cut cost, time and risk while rapidly responding to change."
Brocade SAN solutions have unique features like second-generation inter-chassis links that enable flatter, faster, and simpler fabrics with fewer cables that increase consolidation, while reducing network complexity and costs. A new port type, Diagnostic Ports (D_Ports), enables network administrators to quickly identify and isolate optics and cable problems, significantly reducing fabric deployment and diagnostic times.
Dell stated that the end-to-end FC solution will allow Dell Compellent customers to improve their storage availability and performance with technology that is future proof, flexible and results in protection of their investment.