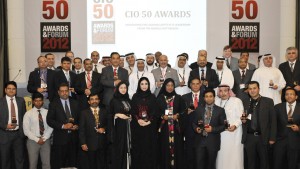 CIO 50 Awards and Forum 2012, the event honouring the leading lights of IT leadership in the Middle East, came to a grand close today with the awarding of 50 of the top CIOs from the region.
The CIO 50 Awards celebrates the top 50 organisations, and their IT heads, that are using information technology in innovative ways to deliver business value, whether by creating competitive advantage, optimising business processes, enabling growth or improving relationships with customers.
" The winners here have demonstrated their ability not only that they have executed their project well, but that they have done so in uncommon, innovative ways: pioneering a new technology, applying a familiar technology to a new purpose, setting the bar higher for their competitors. And they have demonstrated business value beyond a mere positive ROI, to show how the project changed the way they do business (whether internally or externally) or repositioned them competitively," said Sathya Mithra Ashok, senior editor of CNME at the welcome note.
"We had more than a 100 CIOs in the room, and it was wonderful to see the participation from the audience as we went through the forum and the discussions of the day. They were especially responsive to the panel discussion, which centred around the changing investment priorities from CIOs, and how vendors and service providers address these changes in the best way possible," said Richard Judd, MD of CPI Technology and Business.
The CIO 50 Awards and Forum 2012 was supported by CNME's Strategic ICT Partner Etisalat, Platinum Sponsor EMC, event partners Emitac and Key Information Technology, and table sponsors Aptec and ITQAN.
The winners of the CIO 50 Awards (in random order) are:
Mahmood Shaker from Qatar First Investment Bank
Kirit Shah from the Landmark Group
Dr Saif Al Ketbi from Abu Dhabi Ports Company
Mohammed Younes from Abu Dhabi Education Council
Trevor Moore from Abu Dhabi University
Mohammed Saeed Al Shehhi from General Civil Aviation Authority
Bas Wijne from Orbit Showtime Network
Arun Tewary from Emirates Flight Catering
Ahmad Almulla from DUBAL
Abdulla Al Bastaki from the Roads and Transport Authority, Dubai
Juma Al Ghaith from Dubai Customs
Robert James Pickton from SEHA, Abu Dhabi
Abdulsalam Bastaki from Dubai Silicon Oasis Authority
Saji Oommen from Al Batha Group
Sadiq Panjwani from Shuaa Capital
Dr Jassim Hussain from Gulf Air
Esam Hadi of ALBA, Bahrain
Imad Taha of the Belhasa Group
Muhammad Javeed from Paris Sorbonne University, Abu Dhabi.
Wassim Hamwi, Meydan (Dubai Racing Club)
Alok Srivastava from Masdar (Abu Dhabi Future Energy Company)
Sebastian Samuel from AW Rostamani
Hind Hasan Abdulrahim AlZarouni from Dubai Public Prosecution
Entesar Al Hosani from Environment Agency, Abu Dhabi
Muhammad Ali Albakri from Saudi Arabian Airlines
Dr Tarek El Ahmady ElTobely of the Ministry of Higher Education in Egypt
UVK Kumar from Doha Bank, Qatar
David Teklit of the Jumeirah Group
Thameem Rizvon from Kamal Osman Jamjoom Group
Abdulla Hashim from Etisalat
Mohamed Roushdy from Siraj Finance
Fayez Maaraawi of Dubai World
Hamdan Alkalbani at Methaq Takaful Insurance
Khalid Lootah from the Ministry of Health, UAE
Ali Al Ali of Health Authority, Abu Dhabi
Richard Rhodes from Mafraq Hospital
Arnab Debroy from Metito Overseas
Mubaraka Ibrahim from the Department of Health and Medical Services, UAE
Sa'di Awienat from the Qatar Foundation
Ali Radhi from the MBC Group
Deepak Kalra from Safeer Group
Abdullah AlAttas from SAMACO, KSA
Abdulrahim Almudhareb from Dubai Courts
Javed Abbasi from the Gisba Group in KSA
Amal Al Kuwari from the Supreme Education Council in Qatar
Abdulla Hassan from the Department of Economic Development in Dubai
John Loomis from the Arab National Bank, KSA
Fadi Chehayeb of the National Bank of Kuwait
Sami Al Dekheel of Kuwait Finance House, and
AT Srinivasan from Qatar Airlines
 For more on the event and the winners, do read the February issue of CNME. You can also catch the tweets from the floor of the event on www.twitter.com/computernewsme. Search with #CIO50