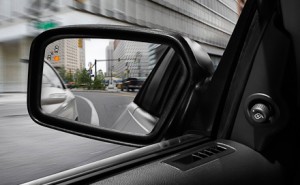 Ford customers, more than ever, are buying vehicles with advanced driver-assistance systems, the company said.
Ford's radar-based technologies that help alert drivers of potentially dangerous situations are being purchased at rates sometimes approaching double or triple what was anticipated, they added.
"Today's customers are extremely informed about technology and advanced features available in vehicles," said Sue Cischke, group VP, Sustainability, Environment and Safety Engineering. "They have an incredible amount of access to information, and we're responding to their interest by offering vehicles with the technologies they want."
Overall, approximately 320,000 radar systems – such as Blind Spot Information System (BLIS) and collision warning with brake support – have been purchased by Ford customers across the 2010 and 2011 vehicle lineup globally. For example, nearly 30,000 BLIS packages were sold on 2011 Ford Explorers. The customer take rate was almost three times higher than anticipated.
Hussein Murad, Ford Middle East's director of Sales said, "The trend is similar in our region as evidenced by the continued demand on our latest products featuring these technologies, such as the Ford Taurus, Edge and the Lincoln MKS, MKX and MKT. And we expect this to continue with the introduction of the all-new Explorer. The new generation of Ford products has truly set the trend of what you can expect from Ford as an industry leader in innovation that is making all of these desired technologies available and affordable to mainstream consumers."
Ford's GCC sales for the eight months of 2011 have grown 45%, as per company reports.
According to Ford, BLIS employs sensors on the outboard rear quarter panels that help monitor the traditional blind spot area, the system can notify the driver with a warning indicator light on the corresponding side mirror if the sensors detect a vehicle in the blind spot.
Increased interest in smart features by customers goes hand in hand with increased focus by Ford Motor Company on delivering technologies that can help drivers avoid a crash, and is shifting the discussion from one of crash worthiness to one of helping drivers avoid crashes. The adaptive cruise control and collision warning with brake support integrated system, for example, allows the driver to set vehicle speed and maintain it without using the accelerator, the company said.  Radar sensors detect moving vehicles ahead and warn the driver of collision risks. On the 2011 Ford Edge, almost 10,000 systems have been sold, about twice what was projected.
Research in the US indicates such forward collision warning technologies could help in warning a driver who is distracted or drowsy. According to the USA's National Highway Traffic Safety Administration (NHTSA), the majority of accidents involve driver inattention. The agency's research found one extra second of warning could prevent up to 90% of rear-end collisions.
"Customers are embracing the suite of available driver-assist technologies found throughout the Ford lineup," said Amy Marentic, Ford group marketing manager. "Ford vehicles deliver a comprehensive technology story from bumper to bumper."