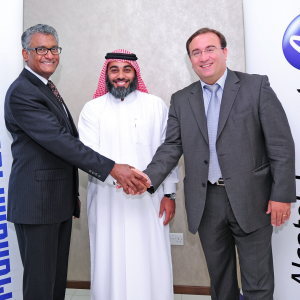 The Department of Economic Development (DED) in Dubai has awarded a contract to Al-Futtaim Technologies, one of the region's leading systems integrator, to implement an advanced contact centre solution to enhance customer experience, increase agent productivity and enable seamless collaboration across the organisation.
The contract, which further strengthens Al-Futtaim Technologies' 15-year partnership with DED, was signed by Abdulla Hassan, deputy CEO, Shared Services Sector at DED and Venkat Raghavan, GM at Al-Futtaim Technologies.
DED hopes the solution, built on an Alcatel-Lucent Communication platform, will add further value to its customer service and assist the Department in integrating the functions of its affiliated entities, namely, Dubai Exports, Dubai Events & Promotion Establishment, Dubai SME and Dubai FDI.
"The new solution from Al-Futtaim Technologies will optimise each customer interaction offering choice, convenience and an improved service experience to DED customers. The contact centre solution will add further value to deliver seamless and consistent customer service," Hassan said.
"It will lead to greater customer satisfaction by improving response time and reducing costs. We are delighted to partner with Al-Futtaim Technologies' superior product, technical excellence and commitment," he added.
Al-Futtaim will implement the Genesys Customer Interaction Management Suite, which captures, routes, reports and analyses voice, email and other communications to allow customers to be quickly connected to the best available resource.
The Alcatel-Lucent Communication platform also provides agents with customer-related data, aiming to save time and increase efficiency and productivity.
The 20-agent DED contact centre will handle inbound and outbound calls in addition to supporting multimedia interaction. The solution will be installed at the state-of-the-art contact centre located in Deira.
Customers visiting DED's website will be able to chat with agents and send as well as receive emails and text messages, thereby being able to have complete real-time multimedia interaction with DED. The solution also has a management reporting feature that provides DED's senior management team with accurate and real-time information.
"We are extremely proud to cement our strong ties with the DED that go back 15 years. This contract is a strong endorsement of Al-Futtaim Technologies' capabilities and solutions," Raghavan said.
"The integrated contact centre solution linking Alcatel-Lucent and Genesys has the ability to create value by enhancing customer experience, increasing agent productivity and enabling collaboration across the organisation," he added.
The new contact centre solution will integrate with Microsoft CRM, DED's 'Trade Application' system and the existing Alcatel-Lucent PBX. The solution will also add further value to DED in fulfilling its e-Services objectives to provide customers with coherent information on the website and reduce paperwork.
The solution is scheduled to be implemented by May 2012.
Al-Futtaim Technologies has previously implemented PBX at DED's various office locations and has also deployed an Interactive Voice Response System (IVR) and Call Centre for the Department.