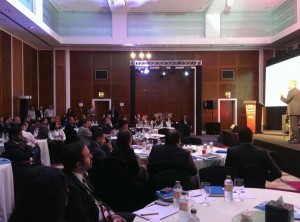 CPI Technology welcomed a heaving crowd inside the Jumeirah Emirates Towers today as it kicked off the 2013 Reseller Partner Excellence Conference and Awards.
The ballroom appeared insignificant this morning, as the entire channel and reseller community filled it to bursting point to witness the early sessions of what is being touted as the most successful Partner Excellence Conference to date.
CPI Technology Group Editor, Jeevan Thankappan, delivered the welcome note before Basil Ayass, Managing Director, Dell, a well-known regional speaker, presented the opening keynote on channel transformation.
"Is transformation necessary in the channel?" he asked. He claimed that "Aggressive discounts" were stopping the channel from prospering, and also focused heavily on how the smartphone craze dramatically changed the business landscape.
"I call smartphones 'converged phones', multiple functions in one device. Convergence changes industries, it turns them upside down," he said.
"We had channel partners focusing on different things but then the smartphone came and changed everything – it offered everything."
Following Ayass, ME indirect sales manager for HP, Ayman Dwidar, presented on the subject cloud and the channel, one key topic which continues to be of interest in the industry.
He claimed that there are three trends which are currently revolutionising the IT industry; converged infrastructure, cloud, and the software-defined data centre.
"The opportunity in private cloud is going to equal the opportunity in public cloud – channel must start looking at the skills needed in order to prepare," he claimed.
He added: "Partners are looking at market opportunities, profits paths, vendor support, channel programs, and how vendors will showcase their value."
For this, Dwidar said that the channel needs to begin looking at a completely new type of business model – the cloud model is completely different to the traditional model, he claimed.
"Channel needs to change," he said. "But the most important question is how. Vendors are not giving solutions on how they can assist change.
"You can jump early or wait, but those who have the nerve to experience new business models will lead in the future," he concluded.
The Reseller Partner Excellence Conference and Awards is currently live from Jumeirah Emirates Towers – following @Resellerme for live updates throughout.