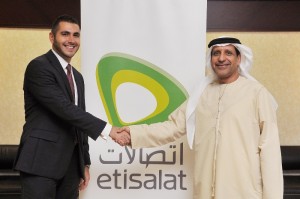 Social network LinkedIn and the Etisalat Group on Monday announced a partnership that will see the teclo use LinkedIn's talent solutions to improve its hiring strategy in the region.
Etisalat will acquire its top talent using the likes of LinkedIn's flagship product, Recruiter, which allows companies to recruit candidates who are not actively looking for work, the two firms said in a statement.
These members are known as "passive candidates", with Recruiter using search and collaboration tools to match them up with companies looking to hire. Over 80 percent of LinkedIn's member base is believed to be a passive candidate, Etisalat said.
This provides a hurdle to attracting the right talent, meaning companies need to build up their credentials as a strong employer brand. For this, LinkedIn also offers the Talent Brand Index service, which Etisalat will also be making use of.
The service allows customers to benchmark and ultimately elevate their employer brand, which, according to LinkedIn data, reduces the cost per hire by up to 50 percent. Indeed, 83 percent of global recruiting leaders say employer branding is a critical driver of their ability to hire the best talent, Etisalat said.
"The telecoms business is driven as much by its people as its advances in technology," said Abdulaziz Al Sawaleh, Chief Human Resources Officer, Etisalat Group. "As the Etisalat Group continues to expand, and as the telecoms industry becomes increasingly competitive, we need to promote the opportunities that are available in our company and grow our reputation as the employer of choice."
LinkedIn opened its Dubai Internet City-based UAE office in October 2012. The office now serves over five million members in the MENA region, one million of which are based in the UAE.