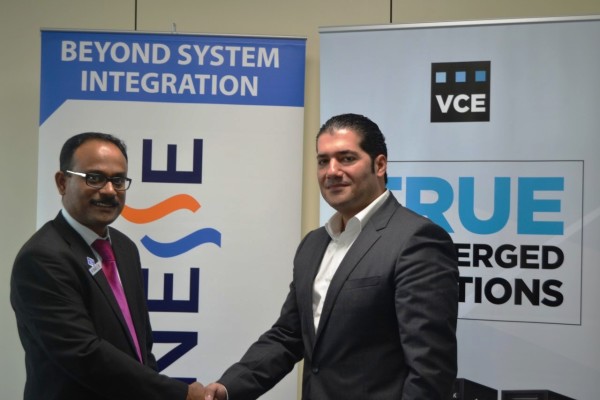 Finesse has announced that it has partnered with VCE. Under the agreement, Finesse will provide services in consulting, gap analysis and suggesting the optimum infrastructure requirements to meet the constantly increasing demand from customers for converged infrastructure and cloud services based on Vblock Systems from VCE in the UAE.
Said Akar, Regional Director for Turkey, Eastern Europe, Africa, and Middle East, VCE, said, "We're pleased to partner with Finesse, a key systems integrator in the UAE with a strong reputation for delivering innovative solutions. VCE integrates state-of-the-art compute, network and storage technologies from Cisco and EMC, as well as virtualization software from VMware to deliver a factory-integrated, pre-engineered, pre-configured, and validated platform. Finesse will leverage the entire Vblock Systems portfolio to provide its customer with a simple, agile and effective way to deploy, operate and manage our industry-leading converged infrastructure solutions that facilitates business efficiency."
Sunil Paul, Co-founder and COO, Finesse, said, "We strongly believe that the data centre provisioning market is quickly moving towards converged infrastructure to ensure efficiency through IT infrastructure transformation. Our partnership with VCE, the market leader in converged infrastructure, will support our endeavor to be trail blazers with our solutions and services for our clients.  We look forward to working with VCE to deliver the best of services."
Finesse was accepted as a VCE partner for its expertise in integrated systems management.