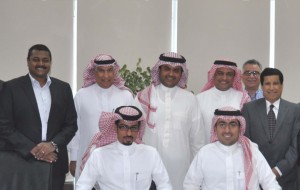 Gulf Consolidated Contractors Co. (GCC) has selected SAP to bolster its IT solutions and increase its influence across the Middle East, the company announced today.
By integrating and enhancing its core processes, GCC – which includes the construction arms of FAFCO-PETCON (Abdullah Fouad), Abdullah H. Al-Shuwayer, Al-Tamimi and Al-Jabr Trading – said its new IT infrastructure served by SAP will allow it to better serve its key customers, which include Saudi Aramco, Saudi Electricity and Saudi Basic Industries Corporation (SABIC).
In the first instance, GCC will adopt SAP's Business-in-One solution, which has been specifically tailored to the construction industry to automate systems, improve overall efficiency and provide critical, real-time business insights.
"As Saudi Arabia and the Middle East region continue their rapid and visionary evolution, the construction industry laying the foundations for this bold new future must adapt to keep pace. This is a big challenge, but one we are well-placed to meet as long as we never lose sight of innovation in all its forms – least particularly when it comes to IT," said Waleed A. Abubshait, president at GCC.
"To this end, SAP will be a vital ally as we move forward, providing us with a peerless digital platform – be it on site, in the cloud or on our mobile devices – that enables end-to-end visibility, drives sustainable business practices and dramatically enhances acuity for swifter decision-making," he added.
SAP's Business All-in-One is designed for rapid implementation, to deliver a fast return on investment with the flexibility to adapt as business needs change. It encompasses every aspect of operations, from project management, procurement and financial control to environmental compliance, quality management and overall business transparency.
"GCC boasts a remarkable half a century of continuous improvement and an unassailable track record of fuelling Saudi Arabia's infrastructural development," said Sam Alkharrat, MD at SAP MENA.
"The company's determination to continually benchmark against the very best and adopt the latest IT technologies is laudable and serves as a tremendous example not only to Saudi Arabia, but also the world's construction industry as a whole. By using SAP solutions to enhance its processes, empower its employees and maximize value wherever possible, GCC's future is hugely exciting and something we are genuinely honoured to be part of," he added.
SAP is teaming up with GCC at a time of strong growth and ambition for the company in Saudi Arabia, with a recent study by IDC naming it as Kingdom's Enterprise Application Software (EAS) vendor front-runner with a 43.5% market share.
Moving forward, SAP's position in Saudi Arabia is set to improve further still thanks to the 12 March announcement by SAP AG CFO Dr. Werner Brandt of a four-year plan worth US $450 million to up-skill local talent and drive sustainable innovation and growth in the MENA region.
The plan includes recruiting more than 500 additional employees, opening several new offices and expanding the company's partner ecosystem and the SAP University Alliances program. Additionally, significant increases will be made in the availability of comprehensive, innovative and localised service offerings.
SAP MENA will also establish a dedicated 'Training and Development Institute' that aims to certify 2,000 new consultants within the next four years. This will triple the company's existing consulting capabilities in the region and further support the localisation of SAP solutions to meet fast-growing regional industry needs.