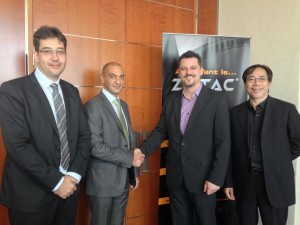 Global manufacturer of graphics card, Zotac International, and Gulf Shadows Computer Systems signed a distribution agreement for the MENA region, according to which, the distributor will promote and distribute Zotac International's range of graphic cards through its channel network across the region excluding UAE, Kuwait, Qatar, Oman and Bahrain markets.
Carsten Berger, senior director, Zotac International says, "Over the last five years, Zotac has been successful in creating brand awareness for our products, increasing our market share and reach in the Middle East region, which is a very important market for us. We are now looking to strengthen our business further by signing on an established distributor, who could open doors for us in countries where we do not have a strong presence. Gulf Shadows, with its vast market knowledge and experience, solid channel network, technical capabilities and extensive reach, was the perfect partner for us."
With operations in the Middle East from 2008, the graphics card manufacturer has been successful in establishing itself as a brand of choice for many customers in the region, according to the company. For Zotac, this appointment is an important strategic move in achieving its objectives of boosting its presence in the region.
Commenting on the partnership, Eng. Feras Kayali, Chief Operations Officer, Gulf Shadows Computer Systems says, "We are happy to sign on Zotac, which is one of the most reputed VGA brands globally. Our focus is on delivering only the best products and hence Zotac is a perfect match for our business. Its high quality graphics cards complement our existing product portfolio and add tremendous value to our channel."