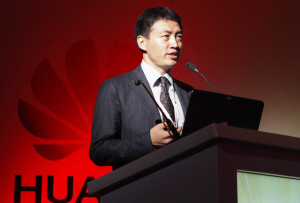 Channel partners came together at Huawei's annual partner summit last month to learn the latest on the company's channel programme and initiatives.
After cementing its leadership position in the telecoms industry, the Chinese tech behemoth has made deep inroads into the enterprise market. Despite being a newcomer, Huawei has clocked double-digit growth in enterprises business driven by its channel, a primary focus area for the company.
Last month, Huawei hosted its annual Channel Partner Summit, which was organised by Reseller ME, in Dubai to share its growth blueprint and partner enablement initiatives. Centred around the theme "embracing change and winning the future," the event featured many executive-level discussions and was kicked off by Dong Wu, President, Enterprise Business, Huawei Middle East. "Four forces will drive new business opportunities – mobile, social, cloud and Big Data," he said, outlining the mutual business opportunities in the region.
Huawei has re-aligned its channel strategy based on these new trends, which includes helping its partners to focus on medium-sized businesses in hospitality, healthcare, education, retail and manufacturing sectors. 
The event served as a platform for potential partners to learn about the company's burgeoning product portfolio and strategies to grow the business in the next few months. "It is a platform for our channel partners to come and understand our solutions, our focus areas and strategies and our channel incentive programme," said Shailendra Sainani, Regional Sales Director, Commercial Business, Huawei Enterprise Group Middle East. "It is also an opportunity for some of the existing partners to strengthen relationships."
Peng Zhi Feng, Channel Director, Enterprise Business, Huawei Middle East, explained the company's enablement programme for its partners at the event. From training to marketing, Feng said the company supports and focuses on partner initiatives. "Our objective is to make sure our partner programme is easy to join, easy to win and easy to profit," he said.
The focal point of Huawei's channel strategy is to deliver its technology solutions in the most optimum manner to the market. And in order to do this, the company realises that partners must see a clear value addition and opportunities to make better margins. With this mind, Huawei has made has made the process of partner on-boarding much easier and has rolled out incentive programmes to enable the partners to grow their business profitably.
Huawei's partner programme is classified into three categories – Gold, Silver and Authorised, with Gold being the most committed relationship from both sides. In terms of the Gold category, the company is looking at having a limited number of selected partners; those who understand its business thoroughly. "We want to align with specific partners, make them preferred, also enable and train them. We want to give them the right tools so that they can be a trusted advisor for us," Sainani said.
Eric Dai, Service Director, Enterprise Business, Huawei Middle East, elaborated on the company's channel service strategies, and said the company's channel policy is to work and collaborate with partners on a win-win basis.
The conference featured success stories from some of the high-profile customers of Huawei in the region, which featured companies such as Saudi Aramco, Golf in Dubai and Technical and Vocational Training Corporation.
Partners who have made a significant contribution to grow the business were recognized at the first Huawei Channel Awards ceremony, across four categories – Best Contribution, Best Breakthrough, Best Joint Growth and Best Salesperson of the year.
The event also witnessed the ICT solutions provider launching its latest offering in high-end enterprise storage – OceanStor 18000 series. The company said that it is aiming at making storage secure, trusted, flexible and efficient.
Please click here to view the full list of winners.