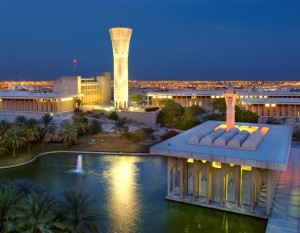 Global Knowledge, a provider of IT training and technical services, announced today that it has successfully implemented a major infrastructure migration project at King Fahd University for Petroleum and Minerals (KFUPM).  The project was completed within budget and well ahead of schedule, representatives of the firm said.
KFUPM community consists of more than 12,000 users including students, faculty and staff working to prepare professionals who are empowered with the desired knowledge, skills, values and confidence to take a leadership role in the development of the Kingdom in the fields of science, engineering, environmental design and business. Accordingly, KFUPM's intent was to enable key stakeholders, such as students, faculty and staff to connect, find, share information, and perform self-services so they selected the fully integrated Microsoft solution for e-mail, instant messaging, presence, collaboration, and document management.
"We are very delighted to be selected by KFUPM as the implementation partner for the project" said Alaa Saafan, KSA country manager at Global Knowledge. "We are committed to accelerate technology adoption in the Kingdom of Saudi Arabia through our broad portfolio of IT and business skills training and also unprecedented range of leading edge technical services. KFUPM's project was a great opportunity for us to demonstrate our technical capability in supporting such a significant and strategic big project in a very short time frame", added Saafan.
"We brought subject-matter experts and business strategy consultants who helped in applying best practices integration and migration methodologies and also recommended tools & training to be used during the migration process", added Saafan.
"Our vision is to leverage the MS Exchange platform as productivity and collaboration tool at KFUPM to foster technology enabled learning", said Dr. Mansour Aldajani – ITC director at KFUPM. "Global Knowledge has demonstrated a strong commitment in dealing with a variety of business challenges during the project by offering a robust range of leading edge professional services that helped in planning, implementing and supporting the migration," Dr Aldajani added.
During the migration, Global Knowledge and KFUPM migrated from an old version of SUN Iplanet messaging server environment to MS Exchange 2010. It included a carefully planned and well executed migration of thousands of configurations related to email groups, mailing lists, and mail forwarding to maintain the identical user experience.
"Through effective team synergy between KFUPM and Global Knowledge teams, the project was delivered at 10 % of the estimated cost, and within 40% of the initial time estimates while fulfilling the requirements on scope, quality, and customer satisfaction" said Mir A. A. Shajee (PMP) – KFUPM project manager. "KFUPM team contributed towards the client side project management and overcame some major project challenges through effective communications management and project fast tracking" said Shajee "We have achieved significant savings in terms of CAPEX and OPEX through this strategic project. We are now focusing on benefit realisation aspect to increase the ROI further".