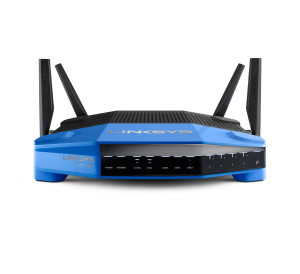 Linksys today unveiled its WRT1900AC Dual Band Wi-Fi Router at the Consumer Electronics Show in Las Vegas, a development of its WRT54G router.
Linksys has been working with the OpenWRT community to make an open source firmware downloadable when product is available.
 "Our new Linksys WRT1900AC Wireless Router will be the most powerful router in its class on the market. We have spared no technology expense to make this router a prosumers' dream," Aman Khan, Sales Director, Linksys MEA said. "The launch of the new WRT router is not only a celebration for the Linksys brand but for our customers too. We have brought back the WRT because our customers have asked for a router that had the reliability, functionality and open source capabilities but with today's AC wireless technology. The WRT1900AC is the result of all these requests."
The new WRT supports a dual core 1.2 Ghz processor, four removable and customised antennas, 128MB flash memory and an eSATA port.
Linksys is also announcing a new Smart Wi-Fi feature called Network Map on the new WRT1900AC router.  Network Map is a visual topology map that shows all the devices that are connected to the network.
Users can manage each device by clicking on its icon and change parental control settings, select wireless bands, filter by device type, or even remove devices from the network, plus more.