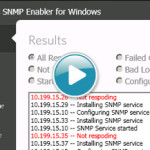 ManageEngine has launched a Single Network Management Protocol (SNMP) Enabler.
 The free tool lets users remotely install and enable SNMP service standard for managing applications on multiple Windows servers.
SNMP facilitates querying variables on remote devices for monitoring performance data. An SNMP Enabler is a desktop tool used for installing and enabling SNMP on the Windows servers that do not have SNMP enabled already.
Users can abort the service installation — or stop the service — on multiple servers simultaneously. Users can also import their devices' details, including host names and IP addresses, from a text file and then install and enable SNMP on the systems with appropriate authentication. The activity logs and the SNMP service status across the Windows systems can be exported as PDF reports.
"We have received requests for this tool in the past from the users of our free SNMP MIB Browser and from users of premium products like OpManager and Applications Manager," said Vidya Vasu, Head of the ManageEngine. "SNMP Enabler complements our free SNMP MIB Browser to provide a comprehensive SNMP management kit, so users don't have to look beyond ManageEngine to install, enable and troubleshoot SNMP. And you can be sure that subsequent versions of this tool will pack in even more value."