James Dartnell reports from day two of the Microsoft Build 2017 conference at the Washington State Convention Centre in Seattle.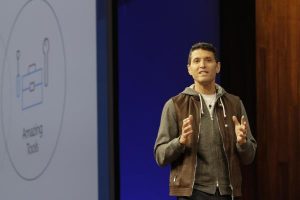 Microsoft has shared the first details of the Windows 10 Fall Creators Update, the next major update to Windows, as well as announcing major additions to its Windows Store and marker-less Mixed Reality motion controllers.
Available later this year, the Fall Creators Update delivers new experiences for more than 500 million Windows 10 devices including a new design system – Fluent Design System – and experiences that move across Windows, iOS and Android.
SAP Digital Boardroom and iTunes will also be added to the Microsoft Windows Store.
The Fluent Design System has been built to help developers create more "expressive and engaging" apps that work across a wide range of device and input diversity.
Microsoft has introduced a Timeline feature for Graph, its intelligent fabric within the Microsoft Cloud, visually displaying what a user was doing previously, allowing users to hop back into files, apps and websites.
"We designed Windows 10 to empower the creator in all of us," said Terry Myerson, executive vice president, Windows and Devices Group, Microsoft. "We're excited for our customers to take advantage of the new features in the Windows 10 Fall Creators Update that will empower innovative experiences; a modern, unified design for cross-device experiences; and an easier path for developers to create for the future of computing."
Microsoft unveiled its first Windows Mixed Reality motion controllers, which offer responsive tracking of movement in your field of view using the sensors in a Mixed Reality headset.
Joe Belfiore, Microsoft's corporate vice president of its operating systems group, said, "I remember about seven years ago, Alex Kipman came rushing into my office and said that I had to come and see a hologram lobster that was being projected in the office. We've come a long way since then. Mixed reality's path is still being written, but I truly believe it'll change everything."
HoloLens inventor Kipman then came on stage to explain how the technology is proving to be game-changing in real world use cases. "In the future, our devices will become lenses," he said. "Devices will adapt instantly to blend physical and virtual worlds. Developers need a single, universal platform that can target PCs, consoles and holographic computers."
Kipman welcomed the producers of famed theatre production Cirque du Soleil on stage, who showed how they have been using HoloLens to enhance and accelerate set design for the show. The show is using mixed reality tools for its creative processes, and an on-stage demo showed just how quickly producers were able to incorporate stage elements with simulated actors on set.
Microsoft announced a host of other interesting new features for its Windows 10 fall creators' update, including Windows Story Remix, a new video editing tool using AI to recognise people, places and objects.
Built on .NET and distributed through the Windows Store as a Universal Windows Application, Windows Story Remix uses AI and deep learning to organise and transform photos and videos into stories. It will use the Microsoft Graph to connect users across devices.
Users can also create mixed reality by adding 3D objects to photos and videos to tell stories or turn photos and videos into a canvas, drawing on them with Windows Ink.
iTunes is coming to the Windows Store by the end of this year. Windows users will get the complete iTunes experience, including Apple Music and the iTunes Store, as well as support for iPhone and other Apple devices on any Windows 10 or Windows 10 S PC.
SAP, meanwhile, will bring Digital Boardroom to the Windows Store this month. Digital Boardroom is a board portal that leverages data from lines of business applications to provide a single source for executives to guide a business in real time. The app was submitted to the Windows Store as a Progressive Web App. This allows SAP to reuse its web content and investments to target multiple platforms.