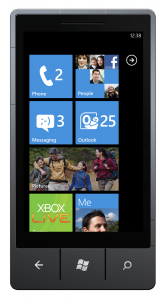 Microsoftyesterday, previewed the next major release of Windows Phone, code named "Mango" for the Gulf Region at a media event in Dubai coinciding with a series of media events around the world.
Mango is expected to deliver more than 500 new features to push the boundaries of the smartphone experience around communications, applications and the Internet.
The Mango release will be available at no cost to the Windows 7 customers and will expand access to applications by launching Marketplace in new countries and partner with new OEMs to enable this expansion. This release also features integration with Xbox Live and high definition graphics. .
"Mango aims to be the smartest and the easiest smartphone OS in the market. Mango will enable seamless integration with communication media to enable continuous connectivity within the current ecosystem," said Gustavo Fuchs, director, Mobility, Microsoft MEA. "With Mango, Windows has taken a step forward in redefining how people communicate and use applications and the Internet, giving you better results with less effort."
According to Microsoft, Mango will offer users threads within the same conversation to switch between text, Facebook chat and Windows Live Messenger. Mango phones will also feature deeper social network integration with Twitter and LinkedIn feeds. "Mango phones will include built in Facebook check-ins and new face detection software that makes it easier to tag photos to the Web," added Fuchs.
" Most notably, all user files on the phone such as pictures, documents and music are backed up on the cloud provided by SkyDrive, which offers 25GB of free storage. The user can then decide  how these are shared or used, so there is less concern about security or losing any information," Fuchs added.
The Live tiles feature on the phone gives users the ability to get real time information from apps without having to open them and switch between apps in use while allowing apps to run in the background and preserving battery life and efficiency. "Mango allows apps to surface where and when they make sense," said Fuchs.
Naturally, Mango is equipped with the Microsoft Office suite of products and Internet explorer 9 (IE9), the browser includes full support for HTML5
"To provide our users with more ways to search the Web, Windows have integrated Bing Vision, music search and voice so as to give users more search avenues on the Internet. Windows aimed at putting users at the centre of the smartphone experience and will be the first phone to ensure that users are always connected," concluded Fuchs.
Mango is expected to help further expand and strengthen the Windows Phone ecosystem through new partnerships with Acer, Fujitsu Limited and ZTE Corp. Microsoft also announced that the OS will support additional languages including Brazilian Portugese, Chinese, Czech, Dutch, Finnish, Greek, Japanese, Korean, Swedish, among many others.
The company will also release a Beta version of the free Windows Phone Developer tools that will be used to create the next generation of Mango apps and games.