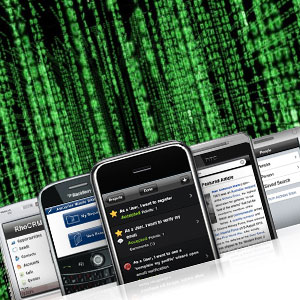 Asia-Pacific (AP) mobile phone application downloads will top almost 5 billion by the end of 2011, growth of 189% per cent from the 1.6 billion downloaded in 2010, according to Ovum.
In a new forecast, the independent telecoms analyst found that 2011 will see some of the strongest growth in mobile phone application downloads, which it predicted will reach 14 billion in 2016 in AP.
Meanwhile, Ovum predicted that AP revenues from paid-for mobile phone apps will hit US$ 871 million in 2011, compared to US$302 million the market achieved in 2010. Ovum found that the market will go on to achieve revenues of US$2.2 billion in 2016.
Ovum devices analyst Nick Dillon commented, "Consumer's seemingly insatiable demand for mobile applications is set to continue this year, with downloads from app stores increasing around the world".
"The outlook for the longer term is also positive, with consumers set to continue to use apps to add new features to their phones and to access their favorite services on the go," Dillon said.
In addition to the strong growth in downloads and revenues this year, Ovum predicted that Android will upset the apple cart by stealing dominance of total downloads from the iPhone for the first time. Android will take a significant lead in AP, with 1.8 billion downloads compared to Apple's 1.5 billion, Ovum analysts said. Last year the two top players reached downloads of 244 million and 424 million in AP respectively.
Android's dominance in this area will soar over the next few years, and by 2016 there will be almost double the total number of Android phone application downloads compared to iPhone in AP, with 6.07 billion and 3.4 billion respectively, they said.
Other shifts include the rise of the Windows Phone operating system, which will overtake BlackBerry for third place in both total number of downloads and revenues by 2015, according to Ovum.
Dillon commented, "The huge lead in downloads that Android will take on Apple is being driven by the growth of the platform as a result of its increasing popularity and progress into lower price points.
"But although Android phones will lead on total download numbers, iPhone will continue to dominate the AP market in terms of revenues from paid-for apps, reaching US$808 million in 2016, compared to US$394 million for Android," he said.
Eden Zoller, Ovum consumer telecoms principal analyst, noted that more affluent segment in emerging markets, are now familiar with applications. As consumer exposure to applications accelerates so do expectations of what applications can deliver. She commented, "There is less tolerance for second-rate applications and this is making consumers increasingly more selective and discerning. This will affect the number of downloads going forward and also how much, if anything, they will be prepared to pay for applications."
"Charging top-end premiums for smartphone apps is becoming increasingly difficult. The majority of paid-for apps are in a commodity pricing zone and those capable of pushing above the $5 mark are in the minority," she added.
"App-savvy consumers are less willing to pay a high premium for anything but 'must have' apps. The challenge here is what is considered 'must have', as this varies by customer segment and the individual. However, good candidates are utility apps that bring increased productivity and convenience, or those that are deemed cool, fashionable and fun, such as the release of a long-awaited blockbuster game," Zoller said.
Meanwhile Dillon said that while much has been made of the threat HTML5 poses to the hegemony of native applications and app stores, the app store will remain the primary channel for consumers to get applications onto their mobile phones.
He added, "App stores offer a familiar environment for consumer to discover, download and purchase apps, and we anticipate that the majority of app stores will list a mix of both HTML5 and native applications in their catalogues in the future."