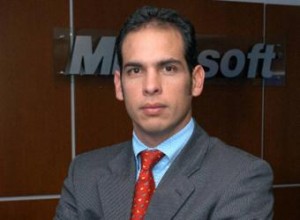 Microsoft has predicted by the end of 2013 one third of workers will work mobile, as opposed to operating in the same physical space, said Jaime Galviz, Gulf marketing & operations director at Microsoft.
"This is huge – we are talking about 33% of the total worldwide work population being mobile," Galviz said.
"More and more, the way you do work is not necessarily in a physical space. Increasingly, people are doing work in a mobile way. We found out that around 65% of people believe they do not need to be in a physical place to do their job," he added.
Despite referring to the "explosion" of mobile, especially smartphone devices, Galviz said this does not threaten the PC, but adds to it.
The larger concern is the consumerisation of IT, Galvis added, referring to the 'bring your own device' (BYOD) culture that companies are being faced with.
"95% of business users are buying their own devices externally. Usually before, the devices we used were given to use by the company. Today, more and more people are buying personal devices and want to use those devices to do their job," he said.
Continuing on the topic of trends in IT, Galvis also mentioned the rising influence of social media in business.
"More than 65% of companies around the world have brought or are planning to bring social networking into their day-to-day business activities. Social networking is no longer just for an end-user, it has become a corporate strategy to communicate with end-users," he said.
However, it is the topic of cloud that Microsoft is giving the most attention to, Galvis said. Microsoft invited CNME to its offices for 'A Day in the Microsoft Cloud' yesterday.
Galvis presented a number of statistics that had influenced Microsoft's attention and approach to cloud. More than 80% of new software offerings at the end of last year were based on cloud. Over 50% of the total IT spend worldwide last year was driven by public and private cloud. A study with Forrester last year, he added, found that around 40% of ME companies had already done something with cloud. Out of the 48% that said they didn't have plans, 44% attributed this to a lack of understanding and 27% to security concerns.
One key problem Microsoft has discovered in the response to its cloud-based Office 365 suite, Galvis emphasised, is that many companies are reluctant to really go ahead with cloud integrations.
"A lot of users are trying Office 365, but many just go through a trial mode. There is a lot of appetite for trial, but a lot of people are a little afraid to really commit," Galvis said.
"The way for us to move forward is to firstly train them on cloud and give them a basic understanding of what it is and what the actual security issues are," he added.
To increase this awareness and understanding of cloud, 10 months ago Microsoft began offering a free online training course with a certification process at the end.
"The most important thing is don't do anything that doesn't make sense to your business. Don't do cloud just because you think everybody is doing and talking about it. Understand why it makes sense," Galvis said.
Galvis advised the best approach to cloud for most companies is to go into a 'hybrid mode', which involves having some areas of the business in the cloud and some on-premise.
"Some companies will be either one side or the other, but over 90% of companies will benefit from hybrid. It's a journey. Take it seriously and be sure it'll most likely be a hybrid mode to move you forward," he said.
Galvis offered several recommendations to businesses who wish to make the most of not only cloud, but also the other influential trends this year; mobile, consumerisation of IT and big data.
"First of all go and train all of your people in these things. Secondly, create pilots and carry them out in a productive way," he said.
"Finally, set up your infrastructure internally before doing anything externally. Figure out what you can manage yourself. Set up your back end and create your own policies before going external with anything, otherwise it will be messy for you," he added.