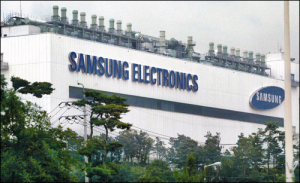 Samsung Electronics is investing 15.6 trillion Korean won (US$14.7 billion) in a new South Korean chip plant to meet growing demand of smartphones, enterprise computing and the emerging 'Internet of Things' technology.
The company will begin construction of the new fabrication facility – encompassing an area of 790,000 square metres – in Godeok Industrial Complex, Peongtaek early next year. Operations will begin in the second half of 2017, Samsung said Monday.
Samsung, due to release its third-quarter earnings guidance Tuesday, said its second-quarter profit fell nearly 20 percent year-on-year as a result of price competition in mid and low-end phones from Chinese manufacturers and sluggish demand in Europe.
As a result, the company's revenue at 52 trillion won in the second quarter was down by about 9 percent from the same quarter last year. Samsung also blamed the decrease to a weaker demand worldwide for tablets.
On the other hand, its semiconductor business generated revenue close to 9.8 trillion won in the second quarter, up by nearly 13 percent from the same quarter last year.
The company also forecasts strong demand for DRAMs and NAND flash storage in the second half of this year coming from mobile phones and high adoption of SSDs (solid-state drives) by enterprises and PC makers.
The company has wafer fabrication facilities in Giheung and Hwaseong near Seoul and in Austin, Texas. It also does integrated circuit assembly and testing in Onyang in South Korea and Suzhou, China.
A Samsung spokeswoman said a decision has not been taken yet on what type of chips would be manufactured at the new facility, or on the manufacturing process to be used.
Originally published on
IDG News Service (Bangalore Bureau)
.
Click here to read the original story.
Reprinted with permission from
IDG.net
. Story copyright 2017 International Data Group. All rights reserved.