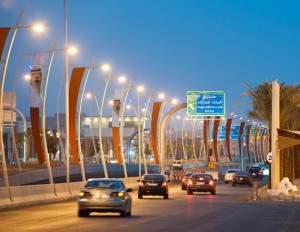 Schneider Electric announced today that recent acquisition Telvent has completed implementation of its first intelligent transportation system, SmartMobility Road Suite, in Riyadh, Saudi Arabia.
SmartMobility projects achieve a marked reduction in both the number of accidents and travel time within city limits, as well as a drop in fuel consumption and CO2 emissions, the company said.
Urban populations are set to double by 2050 and account for 70 percent of the world's population. To meet the challenges this will create, Schneider Electric said its Smart Mobility solutions for integrated city management improve mobility for citizens through operational efficiency and smart information.
As the first smart transportation system to be implemented in Saudi Arabia – on King Abdullah Road –  Schneider Electrics SmartMobility manages interurban expressway traffic through a centralised platform.
The system controls and manages the four tunnels and the entire range of field devices in place along the expressway's length of six kilometres, increasing user safety and security and improving infrastructure maintenance.
The solution also provides real-time information on traffic conditions, which enables local authorities to respond quickly and efficiently to any incidents that may occur on the expressway, in accordance with action plans that are predetermined by the application.
Citizens, in turn, can also make use of this information in real time, gaining the capability to select the route that best suits their interests at any time.
"Following the successful implementation of the traffic management system on King Abdullah Road, the company is developing the urban traffic management system for Jeddah, Makkah and Madinah," said Christophe Campagne, Schneider Electric country president for Saudi Arabia.
"The cities will experience reduced traffic congestion, increased public transit use and lower emissions by providing residents with easier travel across modes of transport," he added.
SmartMobility is part of the smart cities solutions provided by Schneider Electric, which also include smart grid, smart buildings, smart water and smart public services.