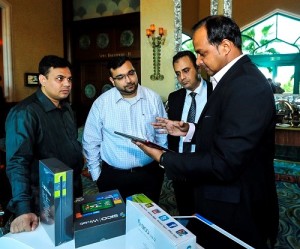 Sico Technology, an Egyptian-based company, has recently launched a line-up of tablet and smartphone products at an event held at Atlantis, Dubai. The product line-up includes Smartphone Pro with its dual active SIM card and Tab2 and Tab2Go featuring 1280×800 resolution LED display. The launch event was attended by representatives of more than 50 retail and reseller partners across the UAE.
"We have a strong product range to rival the mid-level tablets and smartphones available in the market with stronger and better features," said Engr. Mohamed Salem, Chairman and CEO, Sico Technology.  "We had a very good response from the channel community – both retailers and resellers. We are committed to develop high quality, customised products and services that offer international quality standards for consumers and businesses at affordable prices."
The smartphones and tablets are currently available in SharafDG, Lulu Hypermarket, Al Manama, Al Maya, Al Ansar Gallery, Al Falak, Micro and other key retailers across the UAE.
The company will establish a branch in Nairobi, Kenya by end of this year to expand into the African region to cater specifically to Eastern and Central Africa.