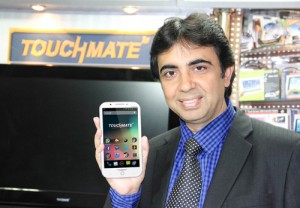 TouchMate has  announced that it will soon launch a range of smartphones in the GCC to complement its range of tablets.
The new lines of smartphones will range in size from four inches to six inches, according to Vasant Menghani, CEO and Founder, TouchMate.
The flagship model will be a six-inch smartphone, or "phablet", which can be used either as a small tablet or smartphone, TouchMate said. The device is equipped with a five-megapixel camera, a dual-core 1.2 GHz processor with 1GB of RAM, and 8GB internal storage, which can be expanded to 32GB with an SD card.
Four other models will also be released, TouchMate said. These models include a four-inch, dual-core device, a five-inch quad core device with and HD IPS screen, as well as a 5.3-inch, dual-core device.
Each model will run on the latest version of the Android operating system, and offer dual-SIM support. Prices will range between Dh499 and Dh1,299, TouchMate said.
As part of the promotion of its new devices, TouchMate said that any smartphone buyer will get $200 free on holidays of two nights in 35 international destinations.
TouchMate will showcase the new range of smartphones at the upcoming DISTREE Middle East event.