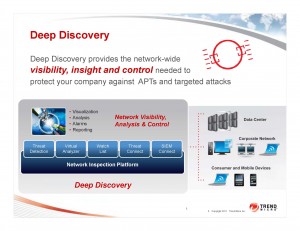 Trend Micro yesterday launched Deep Discovery, the third generation of its threat management solution.
Deep Discovery delivers breakthrough features and performance designed to help large Enterprise and Government organisations combat advanced persistent threats (APTs) and targeted attacks, it said.
"Deep Discovery is the result of Trend Micro's thorough investigations of targeted attacks around the world, interviews with major customers, and the participation of a special product advisory board made up of leading G1000 organisations and government agencies," said Steve Quane, chief product officer at Trend Micro.
"We used our research and customer feedback to create an innovative solution to effectively combat APTs and targeted attacks," he added.