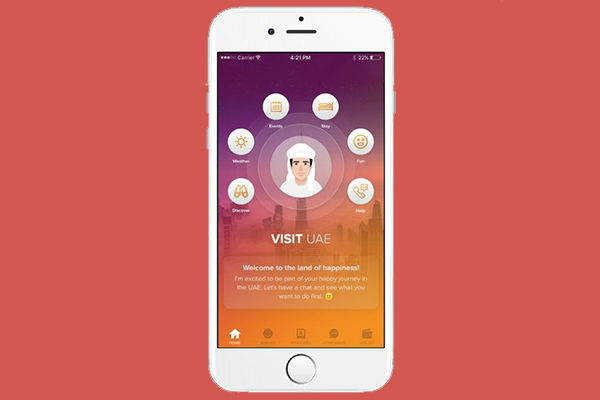 The UAE Ministry of Economy (MoE) has launched the first phase of its 'Be Happy – Visit UAE' application as part of its featured initiatives for UAE Innovation Week 2016 at the Tourism Innovation and Transformation Forum 2016 organised by the Ministry.
The application, according to the Ministry, is the first of its kind in the UAE and was developed to measure the satisfaction of visitors and tourists during their stay. Its interactive features enable users to indicate their satisfaction and happiness depending on their location.
The tool was developed using the latest Internet Bot technology. It provides visitors with an overview of touristic sights and updates on the features, services and purposes of the touristic sector. Additional interesting information on the UAE are provided as well. The application facilitates live chats and interactive discussions for visitors to express their needs and introduces touristic services and products that can meet users' requirements.
The application's user-friendly interactive platform features an avatar of an Emirati character, designed to represent the Bot character which assists the tourist. Through the app, users can explore the country's various touristic destinations and locate important sights, accommodations, hotels and restaurants aside from accessing information on the weather and touristic events across the UAE.
H.E. Mohammed Khamis Al Muhairi, Undersecretary at the Ministry of Economy, explained that the launch of the app forms part of the Ministry's ongoing efforts to integrate innovation into the country's various vital sectors, particularly tourism which he said promotes sustainable growth and competitiveness. He added that such initiatives advance the Ministry's vision of building a diversified and knowledge-based economy empowered by innovation and new technology.
The application provides an e-wallet for easily storing visitor documents as well as a concierge service which facilitates live chats with the Ministry's happiness representatives for general advice, inquiries, suggestions and comments.
Another feature called 'Postcards' enables users to send pictures with special designs featuring each emirate as they visit the country's various touristic sights. An innovative function also determines the mood of visitors while capturing pictures or videos with their smartphones. The app can directly connect to emergency services in case of accident or injury as well.
The 'Visit UAE – Be Happy' app prompts users for their geographic location and provides the necessary information and services available in the vicinity. Updates and additional services will be provided on the second phase of the app to be completed by the end of December 2016.