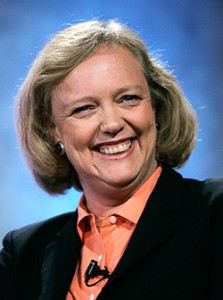 The personal systems group (PSG) is here to stay, and even as efforts continue to increase revenue from the software side of the business, HP has no intentions of moving away from its infrastructure roots and turning into a software company.
These were some of the key points emphasised by HP's five-month old President and CEO Meg Whitman, during her concluding keynote at the third day of the company's Global Partner Conference in Las Vegas.
To a packed hall of global partners, Whitman emphasised that the company aims to return to the standing of industry leader by focusing on certain areas, and by encouraging innovation.
"I am a strong believer in focus. I believe that we would be better off focusing on a small area, and doing really, really well in that area. And that is what you will see in the next few years. We are in the software business to solve tough customer problems, we are not in it to transform HP into a software company," said Whitman.
She emphasised that the focus areas for HP would include converged infrastructure, information optimisation, cloud and services. She added that the company would be investing a lot more in R&D across all its divisions to encourage organic innovation.
"We will continue to do acquisitions; there will be a lot of young companies with solutions that can benefit from HP. I also want to revive under-estimated elements within HP, like HP Labs. We will be bringing HP Labs into closer contact with the business units, so that there is faster realisation from ideas to commercialisation. I want HP Labs to become more commercial. Each group will continue to work on renewed R&D," said Whitman.
Acknowledging the time from August last year, when HP announced that it would look to sell out its PSG division, has been a challenging time, Whitman stated that the team has been working to reduce the noise of the confusion, and to emphasise on the strengths that have held HP in good stead over the years.
"In 2013, HP will be 70 years old. I want to set up the company for the next 70 years. I want to focus on the long term and work with partners in order to ensure that we reach our goals," said Whitman.
A lot of this success will also come from product strength, and Whitman pointed at the Spectre from PSG, and Gen8 launch from ESSN as examples of the disruptive technologies that the company is bringing to the market. She stated that with such disruptive technology, especially in the infrastructure arena, HP will be able to deliver faster, better and cheaper, "something that the big dog in this business can't."
On the subject of WebOS, Whitman said, "It will take another four years to play out, but I believe that there is still space for another operating system. If you take Apple, it works great, but the iOS is closed. Google's Android in the mobile space has the potential to be closed in with the Motorola acquisition, and is fragmented in certain areas of the world. So I believe there is still an opportunity for an operating system to tap into the creativity of developers to enable us to do things that we could not do before."
Acknowledging the confusion that was created last year, Whitman also left a positive note with the partners about the long-term stability of the company and its intentions to work with its channel community in a proactive manner to address the changing market better and more efficiently across all of its divisions.
Sathya Mithra Ashok is reporting live from the HP GPC 2012 conference in Las Vegas. Follow www.twitter.com/computernewsme for live updates, and check www.cnmeonline.com for stories from the floor.