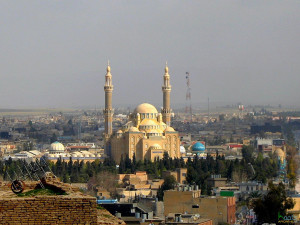 From a state of disarray to a state-of-the-art mobile network, Iraqi Kurdistan is poised for a huge 4G LTE push. Regional Telecom believes the high-speed network holds the key to unlocking the region's true economic potential. Steven Bond ventured to the autonomous region to find out more.
"This is Dubai 20 years ago" is the tenet that tends to welcome all first-time visitors to Erbil — the heart of Iraqi Kurdistan and the home of the Kurdistan Regional Government (KRG).
Erbil, or Hewler to the local population, is also the base of Regional Telecom (RT), a group providing communications services which has readied Iraq's first 4G LTE network under their FastLink brand. The new service is now live, and various personal and enterprise packages are going to market in the coming weeks.
Many are using grandiose superlatives to describe the speed of LTE, but this "lightning-fast" network is striking for the first time in not only Iraq but in all of the surrounding countries. Not only that, the nation as a whole is currently running on Edge (or 2.5G), so the launch completely bypasses the 3G network many of us have become accustomed to over the past half a decade or so.
The 3G licence had been granted in 2006 but the holder could not implement the network — for reasons unknown.
Adjacent to RT's new office compound, pockets of open spaces remain scorched from Saddam Hussain's brutal al-Anfal Campaign, known to many simply as the Kurdish Genocide. But look closer and you may catch a glimpse of Dubai contractor Emaar's flags flapping away in the baking hairdryer wind.
"Unfortunately for Kurdistan, we're still seen by many as an unstable country," said Kawa Junad, RT's CEO. "Only two years ago, bigger companies began understanding the stability of Kurdistan compared with other parts of Iraq, and that was the time we had the opportunity to bring in Alcatel-Lucent.
"This wasn't only because of their services and equipment, but the eagerness to partner with us and guide us through the project."
RT had previously encountered problems with Chinese vendors, and the US invasion of Iraq in 2003 made it difficult for many multinationals to enter the market. "All my respect to Huawei and ZTE, but the quality was never there," Junad admitted.
The last terrorist attack was over seven years ago now, and the economy has since flourished. But the arrival of the mega malls and shiny new apartments are not the hottest prospects at this moment.
Long-term evolution – immediate benefits
LTE, or long-term evolution, could not be more aptly named for Kurdistan. The super-fast connection has been flagged as the technology to significantly boost Web connectivity for both home and office use. The new network also brings other advantages. "The new LTE network will lead to develop the region as a whole, because there are other services it will provide," vowed Junad.
"For example, we've already had discussions with the KRG for an e-government platform, there will be an e-learning program with the Ministry of Education, and we're even talking to the Ministry of Interior, which is interested in linking its surveillance cameras, as well as a range of other enterprises."
RT, while already a cluster of brands, is now running in two distinct divisions, the CEO told CNME; one for its own subscribers, and another focused solely on integrating government services onto the network. Despite such close ties, none of the CAPEX has come from the KRG. The "partnership" is merely a matter of provision, Junad claimed.
"We are also in discussion with the Ministry of Electricity, which wants to use our network to control smart meters to monitor utilities," he added. "Until now, it simply relied on GPS, but has come to us to switch to LTE. So many ministries, focused on many sectors, will come to us for benefits — not only our existing subscribers."
Smartphones and networks – chickens and eggs
With a lack of a 3G network and patchy ADSL offerings, high demand for LTE in Iraqi Kurdistan is a no-brainer. As a telecom leader in the region, RT is even better positioned to gauge the extent of the readiness of the public to adopt 4G-enabled devices.
"We have an accurate understanding of the demand," Junad explained. "We've been in this business for nine years, as a wholesale provider for 90 percent of the companies here, through Newroz.
"There's also a penetration rate of almost 75 percent, so we know the market very well. Demand has never been the problem — only services."
People are already buying LTE devices, Junad claimed. Around 85 percent of mobile devices being bought in Kurdistan are smartphones and, while many of these will not be LTE-ready, RT has readied portable SIM-loaded 4G modems for up to five users at a time.
This is the real potential coup for RT — even with lower-grade smartphones, users will have connectivity on the go. Handily monikered as "My-Fi", the device is no bigger than an old-school Nokia handset.
"The My-Fi will be a pocket modem with charge for up to eight hours, supporting 3G and 4G — as long as your device supports Wi-Fi," Janad said. "You don't need to change your phone or provider, just connect through the Wi-Fi that's in your pocket.
"Once we have connected all of Iraqi Kurdistan, then we will move forward. We're about to be operational and we will have blanket coverage in eight to 10 months — maximum one year. We are already planning, with discussions going on, and I think we will move into other parts of Iraq soon."
RT's priority is to cover all of Kurdistan and be the first company in the region to connect rural areas, as well cities, with 4G, Junad claimed. "Even the UAE announced they have 4G, but I couldn't even get a connection in the Palm Jumeirah," he joked.
RT has positioned itself for what it calls a "slow launch" with very limited advertising, but Junad is convinced that word of mouth and the keenness of Kurdistan's populous will beat the sales inertia.