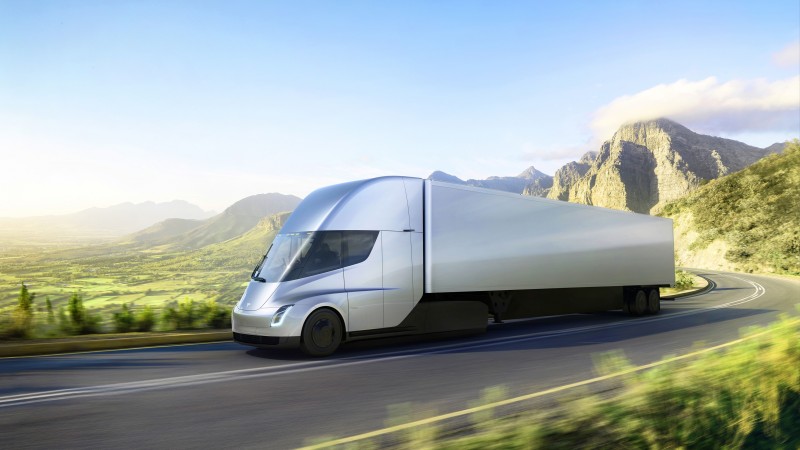 Environmental management firm Bee'ah has purchased the first and largest fleet of Tesla Semi trucks in the Middle East.
The announcement was made in-line with Bee'ah's participation at the "World Future Energy Summit", which is taking place in Abu Dhabi from 15th-18th January.
Bee'ah placed an order for 50 of the automotive brand's all-electric vehicles immediately after their launch on 16th November
The incoming Tesla Semi trucks, which will enter production in 2019, will primarily be used for waste collection and transportation, including transportation of materials for recovery.
They will also add to Bee'ah's growing fleet of vehicles, which total over 1,000 today.
The Tesla Semi trucks will run alongside the firm's existing electric vehicles, which run on compressed natural gas and bio diesel, in addition to its boats that use solar energy while cleaning lakes and water bodies.
The purchase from Tesla is considered to be the first phase of the company's transition to a full eco-friendly fleet as Bee'ah is working on other future partnerships that will eventually allow the company to get rid of all vehicles that run on diesel, contributing to better air quality.
Launched in California by CEO Elon Musk, the new Tesla Semi truck will provide Bee'ah's logistics function with vehicles capable of travelling 805 kilometres on a single charge. Running on battery power, the trucks are guaranteed for 1.6 million kilometres of usable life, while carrying 36,287 kilograms of cargo.
The new fleet will enable Bee'ah to further minimise its environmental impact by reducing the number of diesel-powered vehicles on the road, thereby reducing the consumption of fossil fuels.
In late 2015, Bee'ah anounced seven new air-monitoring stations, which collect and analyse data on local air pollution to help partners in government and education form new strategies for reducing harmful emissions across industries.
"We are extremely pleased to turn towards Tesla for a solution that enhances our leadership of sustainable practices in the region," said Salim Al Owais, chairman of Bee'ah. "As a company that strives to be the best in our field, we only work with partners that we consider to be the best in theirs. Through this latest investment, we hope to demonstrate to others the value and importance of seeking out better, more viable ways of achieving our business aims, all for the greater good of our communities."
Bee'ah's latest involvement with Tesla isn't its first. Earlier this year, Bee'ah made an investment with Tesla to fit the company's Powerpack battery technology to Bee'ah's net zero energy headquarter complex, which is currently under construction.
The Tesla batteries will store solar energy to power the building, and any excess electricity generated will be fed directly into Sharjah's main power supply grid.
Designed by British-Iraqi architect Zaha Hadid, Bee'ah's new headquarters is currently under construction in Sharjah, and will become a platinum LEED certified building upon completion.
In September, Dubai's Roads and Transport Authority added 50 Tesla electric vehicles to its fleet.