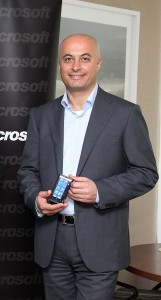 Microsoft Gulf is set to showcase its latest innovations across the cloud portfolio and the Windows platform at GITEX.
Microsoft hopes that the event will provide it with a platform to demonstrate innovative technology solutions and scenarios, highlighting the increasingly important role that technology plays in shaping people's lives.
At the event, the Microsoft stand will feature a Windows 8 showcase, where the new interface will be demoed for the first time to a public audience in the UAE. Also on the stand will be over 20 Microsoft Partners in the UAE featuring their innovation developed on Microsoft platforms such as Lync, Dynamics and Office 365.
Also at GITEX, Microsoft will invite visitors to explore the "Windows 8 Journey to Innovation," a  visitor experience Journey where Microsoft and its hardware partners at GITEX, including Intel, Nokia, HP, Dell and Samsung highlight the Windows 8 platform on various form factors. Additionally, Microsoft will announce a suite of locally developed Windows 8 applications to launch in the Windows Store, including applications for Dubai International Airport, Sharaf DG, Shop and Ship, Jumeirah Restaurants, Aramex, Gulf News, Dubai Cinemas, DEWA and Time Out Dubai.
"This is an exciting year for us as we're launching a number of products in the coming few weeks and we're thrilled to preview some of them with GITEX attendees," said Samer Abu-Ltaif, Regional General Manager Microsoft Gulf.
"We'll be sharing all our latest innovations across the cloud portfolio and the Windows platform, all of which will  positively impact our customers' lives and change the way they work and play as they will enable greater choice, flexibility and seamless integration across various devices and form factors  We are committed to continually bringing to the UAE and Gulf the latest technology innovation that will improve peoples lives and empower businesses to improve productivity in order to support the vision of the regions leadership of enhanced connectivity."
Microsoft's Leadership Team is expected to attend the event and provide insights on product innovation as well as current and future industry trends, such as the Consumerisation of IT, the spread of mobile workers, big data, virtualisation and the need for business intelligence tools.
Members of the Leadership Team attending the event in addition to Abu-Ltaif include Ali Faramawy, Corporate Vice President, Microsoft Middle East & Africa President, Ihab Foudeh, Enterprise and Partner, Group Director and Michael Mansour, Developer Platform Evangelism at Microsoft Gulf.
Microsoft is also participating in the Cloud Confex to share its vision and cloud innovation. Microsoft's Mark Chaban, Director of Server & Cloud Platform Marketing, Microsoft Middle East & Africa and Mike Tsalidis, Regional Business Group Lead – Server & Tools, Microsoft Middle East & Africa will be giving presentations on the latest innovations in cloud as part of the event, including recent launches like Windows Server 2012.
The Microsoft Stand at GITEX is number B7-10, located in Hall number 7 at the Dubai International Convention & Exhibition Centre.