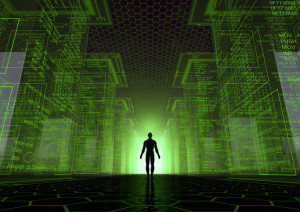 Unlike trends such as cloud and BYOD, software-defined networking (SDN) may seem like an alien concept that doesn't relate to everyday business. It is something everyone talks about and is considered to be a buzz word but assuming it is complicated, partners and organisations shy away from it. Well, the first thing, to understand is that SDN is a business enabler. It is designed to address the issues that is seen with traditional networks.
"SDN comprises multiple technologies that open the planes of the network, enabling them to participate in broader orchestration frameworks to solve cloud-related challenges," says Yarob Sakhnini, Regional Director, MEMA, Brocade Communications.
"OpenFlow protocol, one of the popular SDN-enabling technologies, is gaining increased support from the world's most demanding network operators. OpenFlow enables programmatic control of network infrastructures and rapid network service development and deployment. This allows SDN to centrally manage and monitor the network across not just routers and switches from a single vendor but across any networking hardware that implements this standardised SDN protocol," he adds.
But having said this, Sakhnini cautions that SDN is not a replacement of the physical infrastructure. It still requires a level of physical infrastructure and therefore, he says, it will not affect sales of networking hardware. "With all forms of virtualisation, SDN is sensitive to time-lag, latency and downtime. Therefore, if the customer's physical infrastructure is still a three-tier, legacy affair, with redundancy and resilience issues, any investment in SDN may reap little real reward."
Agreeing with Sakhnini, Wael el Kabbany, Vice President, Middle East, North Africa and Eastern Mediterranean, Avaya says it's true that the changes happening don't affect the sales but have an impact on the way networks are bought and sold.
He further says that the concept behind SDN is not new, players have been deploying it for some time now, "What's new is how a flexible, simplified network deployed through SDN can help deploy and manage complex, advanced systems spread across places like the cloud."
According to Noman Qadir, Director, Channels, MEA, Citrix, SDN is just another name for virtualisation. Most customers are accustomed with server virtualisation, storage and network virtualisation, the latter two, he says, effectively allows organisations to manage underlying hardware resources as though they were abstracted pools of computing resources. "Recently, industry jargon for doing this changed from virtualisation to SDN– meaning computing resources will be defined, controlled and managed using software, improving utilisation and the ability to automate management," he explains.
It might be a challenge to determine when SDN would be mainstream in the region. Although according to a survey done by Brocade in Europe and North America, one in five enterprises are using SDN solutions. However, it is interesting to note that there were discrepancies in what respondents "had in mind" when they said they are using SDN technology. This indicates that the definition of SDN is not clear, even globally.
But when it comes to verticals, Maan Al Sabi, Business Development Manager, FVC, says, telecom operators and service providers will stand to benefit most out of this technology. "Given the scale of their network deployments, they will have the opportunity to realise considerable savings on CAPEX because of the reduced cost of hardware resulting from displacing network control to the cloud; and in OPEX due to reduced use of manpower since they will no longer need to manage a distributed complex network fabric."
Adding on, Sabi says, other industries running private WANs and clouds will also benefit, such as oil and gas, security and defence, education, especially universities with large campuses, and the transportation sector, mainly airports.
Sakhnini believes banks and financial institutions will be early adopters of SDN solutions as they have been at the forefront of enterprise network designs, since their real-time trading applications require low latency. "Other enterprises that are highly dependent on the speed and scale of their network can also benefit from SDNs, including retail organisations with highly distributed locations and large manufacturing organisations," he adds.
Now the question is what does SDN mean for the channel partners? When most new technologies are introduced in the market, it is a difficult initiative for the partners. Primarily, this is because the experience and technical requirement that goes around it, is tremendous. "A lot of the pressure is on the vendor to help the partner understand what is and what is not important from a market perspective. And help them understand the skills they need to achieve in order to be able to talk about SDN comfortably with their customers and then be able to deliver it," says Glen Ogden, Regional Sales Director, Middle East, A10 Networks.
"Retaining skills in the channel is very difficult. It goes back to partners having programmes to be able to retain their individuals," he adds.
The role of the channel in the initial stages will be that of an advisor. And once, SDN is thoroughly understood by all stakeholders, channel partners may have to step in to tailor each deployment according to the customer's demands and expectations.
Sakhnini says, "When SDN really takes off, which for the region is still a few years away, we will expect our channel partners to drive sales and turn customer mentalities. For this, they need to start increasing their knowledge in SDN and the software-centric data centre. They will need to focus on targeting specific verticals and look to position SDN as the technology of choice for enterprises that are looking to build cloud assets."
The message that Brocade want to drive home to its partners, he says, is that SDN is a good thing. "It is easier to sell because it is a single platform, one physical box, and then they get to layer the virtualised function that their particular customer needs at the time, on top of that. This 'open stack' is customisable and catering to individual customer needs will enable partners to deliver greater value and therefore gain better revenues."
Also, with the move to a software-defined model, partners can not only make better margins than on hardware, but it also costs them less in terms of inventory. This means a better financial model.
What's more, Sakhnini says further, partners who have already developed the technical skill sets for the company's products will not require a radical shift in their business. "SDN solutions feature the same functionality, except that they are running on virtual machines, which is why adapting to this new model from a technology standpoint will not be very difficult."
All in all, in one word, it means "Opportunity," says Den Sullivan, Head of Enterprise and Architectures, Cisco Middle East, Africa, Russia. And this is across the enterprise network, wide area network and even the data centres. "I believe the opportunity exists when consulting with customers, during implementation and in all the activities that follow in the traditional partner-customer model. There is also a new opportunity here as well. We at Cisco, created significant Application Programmable Interfaces (APIs), and the opportunity for the partner then obviously goes beyond the traditional boundaries," he further explains. The partner can then add their own value and create another layer of abstraction and create software and automation activities around the API model.
To be successful with SDN, Kabbany from Avaya says, partners need to build the right ecosystem of vendors—ones who can offer the full value proposition of the technology, and who can differentiate themselves in the market. "Developing new technology holistically—incorporating services— is always important, as is having properly-trained experts in the channel," he adds.
Most industry players are expecting SDN to transform the business model for technology providers as software-based technology will gain importance.
"The spectrum of SDN and Network Functions Virtualisation (NFV) technology will continue to grow, moving forward, presenting resellers with ample business opportunities. With the technology landscape currently being reconfigured, resellers can seize the 'first mover' advantage and establish a fresh foothold in the market," says Sabi from FVC.
More importantly, customers with existing investments in legacy networking technology will want to implement SDN by gradually folding it into their existing legacy networks and slowly phasing out the old technology in favour of the new. "This will mean that a lot of integration and migration work will be required, which presents a significant opportunity for professional services teams at the cusp of this network transformation,' he explains.
"Ultimately, and as with all new concepts the uptake of SDN will be contingent on being able to provide the right people with the right skills. They would be the ambassadors to help raise awareness by demonstrating the untapped potential benefit of SDN, and also help educate resellers and customers to adequately deploy the technology," says Qadir from Citrix.
What partners must note is that in order to be able to deploy SDN solutions in a few years' time, customers will have to get their infrastructure ready today. This means, the technology is definitely here to stay and presents immense opportunities for partners to increase their revenues and margins. Therefore, it might be worthwhile to embrace and study it, in order to have a competitive advantage.