The rapid growth in mobile broadband means operators need access to a sufficient amount of spectrum and the right bandwidth to achieve the required quality of service.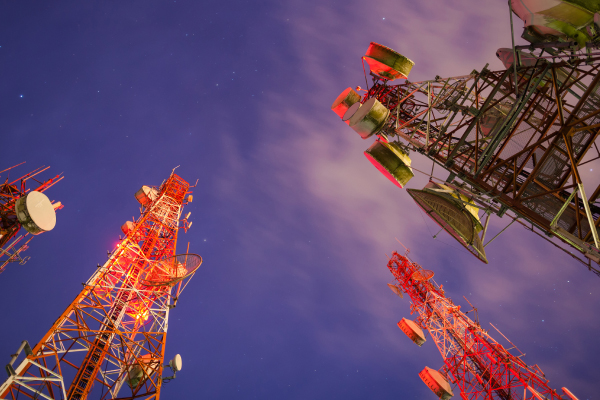 Spectrum is said to be the lifeblood of the wireless industry and the amount of spectrum operators control determines network speeds and capacity. The research firm Deloitte has recently predicted a spectrum and broadband shortage around the world on the back of growth in smartphone shipments and global 4G rollouts.
This looming spectrum shortage will impact on network performance, such as lower speeds and dropped calls and sessions as demand exceeds supply.
Samena Council, the regional operator-driven industry association, points out that mobile services throughout the region are undergoing rapid growth, causing telecom networks to experience unprecedented device connections, which result in high data traffic. This is generating a need for access to more airways among telecommunications operators and highlights the essential nature of efficient spectrum allocation and spectrum harmonisation for the future success of global mobile services.
"With massive growth being experienced in mobile data, the need for additional spectrum, dedicated specifically to International Mobile Telecommunication (IMT), has become severe. Additional spectrum is a mission-critical business requirement that telecom operators simply cannot afford to keep unfulfilled, as both private and public sectors work extensively to bring benefits of advanced connectivity to their people," says Bocar BA, CEO of Samena Council.
He adds that in many countries, current availability of spectrum may appear to be sufficient for meeting short-to-medium term requirements posed by the increasing connectivity of mobile devices and data flows. As a result, this may not prompt immediate attention from policy-makers to revisit spectral efficiency needs and current frequency allocations, but at the speed in which the industry is transforming along with the challenges to the networks in terms of consumer data consumption, the inevitability of allocating more spectrum to operators will soon become more evident.
"In the best interests of consumers and service providers, bands such as Sub 700MHz UHF Band, L-Band, 2.7GHz – 2.9GHz, and C-Band offer the best combination of coverage and capacity, both of which are required to ensure that mobile networks are capable of providing cost-effective, high-speed services in both rural and urban areas. Moreover, with the emergence of a new marketplace, driven by Internet of Things (IoT) and machine-to-machine (M2M) technologies, considerations for more harmonised licensed spectrum at affordable prices must be recognised and applied promptly," says Bocar.
By allocating sufficient additional spectrum to telecom operators, governments will be able to continue supporting existing services for as long as necessary, while also ensuring they have the flexibility to gradually increase the amount available for mobile broadband. In the absence of new allocations, their ability to react swiftly to make new mobile spectrum available as data traffic rises will be limited, resulting in a degraded user experience and impeding the realisation of economies of scale. As it takes several years to assign, re-allocate, re-assign, and re-license spectrum, it is essential that administrations act now rather than react later, when it may be too late to meet the growing consumer demand through market-healthy initiatives, according to Samena Council.
What are the ways for operators to gain optimum efficiency out of their spectrum assets? "Operators obtain spectrum for their exclusive use by buying it on auction from their country's authorities. The amount of spectrum available in a geographical area is limited, and how much bandwidth operators are able to deliver to their customers is dependent on what is called 'spectral efficiency'. Different technologies offer varying degrees of spectral efficiency," says Balakrishnan Shanmugham, Vice President and Practice Leader for Communications, Cognizant.
From Dr. Mohamed Nadder Hamdy, Director Wireless Network Engineering, Commscope , adds: "When we talk about improving our spectral efficiency, we mean squeezing more "bits per second" into the same Bandwidth "MHz". This can be achieved by a number of techniques, like migrating to a higher technology – from 3G to 4G for instance – deploying higher MIMO schemes (4×4, 8×8, Massive MIMO), Reducing interference – UL/DL CoMP – broadcasting instead of unicasting (eMBMS) and introducing Beam-forming technologies."
There are also other ways to optimise spectrum. This includes Carrier Aggregation technology that comes into play through LTE-Advanced, which allows the aggregation of different, non-contiguous chunks of frequency, like combining two 20MHz blocks into one 40MHz block, and thereby offering greater bandwidths to more users.
Another method is a combination of large – macro – and small – femto – cells. Small cells can offload or relieve the macro cells of the traffic burden, thus allowing the macro cell to be used by subscribers who aren't near any small cell.
Industry experts say it is imperative for operators to consider spectral efficiency while buying new radio equipment. "Operators need to develop and design their longer term technology strategies, which cover spectrum, features and technology adoption plans. Having such strategies on the ground enables smarter investment into equipment that can simply last longer. For instance, base stations hardware that support technology upgrades by software, and antennas with sufficient ports and future bands support will result in longer EoL," says Hamdy.
Spectrum is a valuable and scarce resource, and one of the emerging techniques in the industry to address the spectrum crunch is combining licensed spectrum with unlicensed bands in the network.
"Combining licensed and unlicensed bands, such as Wi-fi that falls in the ISM band, is an important part of improving the efficiency of spectrum utilisation. Wi-fi suffers from certain drawbacks with respect to quality of service. Another concept is to use LTE in the unlicensed band in place of Wi-fi. This allows for better efficiency and quality of service in the unlicensed band," says Shanmugham from Cognizant.
The premise of unlicensed LTE or LTE-U is that the connection is initiated in the licensed spectrum, and once established, it spreads itself to the unlicensed part of the spectrum to allow simultaneous downlink over licensed and unlicensed spectrum. There are concerns around allowing operators to offer services over unlicensed bands and the fact that standards haven't been fully established in this area. But with the current state of technology and regulation, this seems to be one of the better ways of addressing the spectrum crunch.
In some developed markets, industry regulators have started to propose spectrum sharing as a potential solution to meet the demands for more spectrum for data services.
"Over the last 3 years there have been lots of debates concerning spectrum sharing, especially between different services, such as mobile networks and TV broadcasting. A number of techniques were developed that can protect the primary spectrum owners from interference. For example LSA (Licensed Shared Access) can release spectrum based on location and/or time. Nevertheless, this trend has weakened recently and we hear more talk for using TV white spaces and unlicensed bands. However, such techniques are not adding to "Spectral Efficiency" but rather fall under the "Spectrum Addition" dimension," says Hamdy from Commscope.
However, operators are balking at the idea of mobile sharing. According a report commissioned by the GSMA, mobile operators' trade body, the sharing of new mobile broadband spectrum will not generate enough cash for economies.
The report written by Deloitte says that "shared spectrum can complement but in no way replaces the need for exclusive-access spectrum in the provision of mobile broadband".
The report, "The Impacts of Licensed Shared Use of Spectrum", highlights "how shorter terms, build obligations, lack of certainty and small allocations can significantly reduce the likelihood of a mobile operator to invest".
This means, says the report, "that the potential economic benefits derived from spectrum sharing are ultimately lower than those achieved through exclusive-access spectrum" – operators having their own exclusive spectrum bands to provide services.
While the jury is still out on spectrum sharing, one thing is for sure – we are on the verge of a massive wireless spectrum shortage if the industry fails to find ways to enhance spectral efficiency and local governments need to act fast to free up more spectrum for mobile broadband. A spectrum crunch, for sure, will stifle innovation and economic growth, and cost the Middle East region to lead the world in mobile communications.