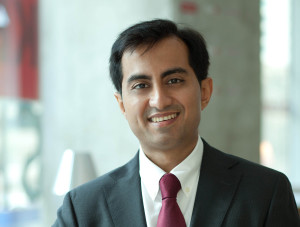 Manish Punjabi, Channel Marketing Manager MEA, Alcatel-Lucent Enterprise, pens down the channel opportunities in Near-Field Communication (NFC).
A few years ago, online changed the way we booked our tickets, paid for groceries, transacted with the bank and many more daily rituals. However today, the 'click' of a mouse is becoming a thing of the past as there is a new 'tap' in town called NFC.
Near-Field Communication (NFC) isn't a new technology. The Nokia 6131 was the first ever phone to include a NFC chip in 2006 and Google Android was the first smartphone OS to include NFC in 2010. However, NFC has come into the foreground in 2014 thanks to the launch of Apple's iPhone 6 and mobile wallet service, Apple Pay. The Economist recently highlighted the pitched battle between Apple Pay and CurrentC, which has pushed the technology further into the spotlight.
What is NFC
For the uninitiated, NFC is a set of standards for smartphones and other mobile devices to establish radio communication with each other by touching them together or bringing them into close proximity, usually no more than a few centimeters. The applications of NFC range from Contactless Payment, File Transfer, Contact sharing, Electronic Identification and gaming.
NFC is but one of the many uses of smartphone devices that have invaded our lives and now occupy centre stage. When contactless payment gains widespread acceptance, the smartphone will then replace having to carry credit cards and cash.
But NFC is not only for consumers, enterprises too can adopt this technology. With 'Bring Your Own Device' (BYOD) trending in the business world, employees will be able to use NFC to transfer calls from a mobile device to a desk phone.
Why NFC
But one might wonder – why have another wireless communication protocol when Bluetooth is well entrenched in our vocabulary? Apart from being inherently more secure, NFC brings more to the party –
1. While NFC operates at slower speeds than Bluetooth, it consumes far less power and does not require pairing.
2. NFC sets up more quickly than standard Bluetooth – in less than a tenth of a second.
3. NFC has a shorter range than Bluetooth, which reduces the likelihood of unwanted interception.
Channel opportunities
NFC and Bluetooth can have many uses and while still uncommon in Enterprise, these technologies can create new complimentary opportunities in the channel. Hospitality is one vertical where these technologies promise to boost guest loyalty and hotel revenues. For example, BYOD-empowered employees increasingly expect more from their smart mobile device when they travel – make phone calls, activate the TV and lights, access concierge services and unlock room doors. In November, Starwood Hotels announced the launch of SPG Keyless, allowing guests to unlock their Bluetooth-enabled door with their smartphones.
In the travel and transport vertical, the channel can include NFC solutions in their offering that can fundamentally change the way we identify ourselves at a ticket kiosk or check in. NFC's 'tap and go' functionality can increase processing speeds at check-in counters because NFC boarding passes are faster to process than bar codes.
Retailers have an opportunity to engage with connected shoppers using NFC. By creating mobile experiences, retailers can entice shoppers to engage while in-store, drive sales and reward loyalty. The cost efficiency and communication range of NFC tags can make them ideal for on-product, on-package and on-shelf applications. A user taps the tag to pull the desired information from the product or shelf containing the product of interest, such as further details, usage demos or online reviews.
With the increasing investment across the Middle East and Africa in hospitality, travel and retail, NFC offers early adopters a window to differentiate themselves. Furthermore, if channel partners embrace 'tap' just as rapidly as they did 'click', NFC can generate new opportunities in the outlined burgeoning verticals.