Aruba, a Hewlett Packard Enterprise company, is launching its 'Mobile-First Platform' and its new 'Partner Ready for Networking' programme at GITEX.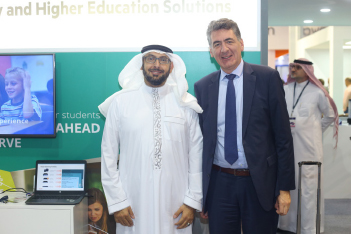 Aruba hopes to utilise GITEX as a platform to demonstrate the business benefits of these new solutions to their customers, after investing heavily in the company's booth and ensuring Aruba have a strong presence throughout the week at this year's event.
"We have tried to give some vision of business outcomes within our booth for verticals; for example, we have some solutions centred around hospitality, some around education, and so on," said Alain Carpentier, Vice President, Worldwide Sales, HPE Aruba. "It's important for us to show our customers that it's not just about technology, and for us to give real examples of what we can provide to their business."
The company's new platform includes a unique set of software solutions and business partnerships, designed to make the enterprise network smarter, while being easier to consume and manage.
Ammar Enaya, Regional Director, HPE Aruba, Middle East & Turkey, said, "Aruba designs and delivers best-of-breed mobility solutions, and employs a software approach that extends mobility intelligence across wired and wireless networks all the way to users through devices and apps. GITEX is the perfect platform to highlight these capabilities to key IT decision makers."
The company is also launching its new 'Partner Ready for Networking' programme at this year's event, which is a combination of the Aruba PartnerEdge and HPE Partner Ready programmes in order to create a new programme that enables partners to "capitalise on enterprise mobility market opportunities," according to Enaya.
"Before the merge, we had two very different and separate partner programmes operating through Aruba and HPE," said Carpentier. "We spent a year re-aligning these programmes to create a partner programme which provides partners with security solutions, mobile engagement solutions, software solutions and digital business outcomes for customers. We wanted to give our partners more support and protection, so we are using this programme as a platform for this."