The Roads and Transport Authority (RTA), in collaboration with Chinese manufacturer EHANG, has announced that the operation of an Autonomous Aerial Vehicle (AAV) in Dubai could begin as early as July this year.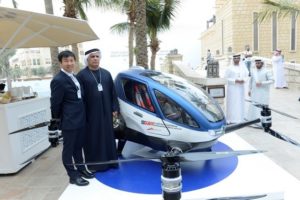 The EHANG184 vehicle, which was showcased at the World Government Summit, Dubai, is fitted with a touchscreen at the front of the passenger seat displaying a map of all destinations in the form of dots. It has preset routes and the rider is to select the intended destination. The vehicle will then start automatic operation, take off and cruise to the set destination before descending and landing in a specific spot. A ground control centre will monitor and control the entire operation.
HE Mattar Al Tayer, Director General and Chairman of the Board of Executive Directors of RTA said, "The trial run of the first AAV is in implementation of the directives of HH Sheikh Mohammed bin Rashid Al Maktoum, Vice-President and Prime Minister of the UAE and Ruler of Dubai, to transform Dubai into the smartest city in the world. It is also part of RTA's endeavors to provide self-driving transport through engaging in the technological tests of self-driving vehicles under Dubai environment."
The announcement aligns with Dubai's self-driving transport strategy, which aims to transform 25 percent of individual trips in the emirate into self-driving trips using various modes of transport by 2030.
"We have addressed the highest levels of security in the designing and manufacturing of the EHANG184. The vehicle is fitted with eight main propellers, where each propeller would operate at a time, and the systems are separated from the contents of the vehicle. In case of any failure in the first propeller, there would be seven other propellers ready to complete the flight and a smooth landing, while mitigating the impact of the fault sustained by the first propeller," said Tayer.
The AAV is designed to fly for a maximum of 30 minutes, with a battery charging time of 1-2 hours. It's maximum cruising speed shall total 160 km/h, while the standard speed shall be 100 km/h. The maximum cruising height is 3000 feet, and the vehicle is designed to operate under all climatic conditions – unless there is a thunderstorm.
Tayer noted that the successful operation of AAV is considered a big step towards innovative and smart mobility solutions for reducing city traffic congestions.
"The RTA is making every effort to start the operation of the AAV in July 2017," he added.