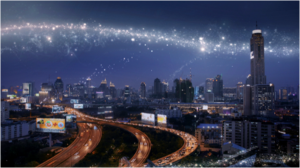 Returning to GITEX after a 5 year absence, Ericsson will demonstrate 'Life in the Networked Society' at this year's conference at Dubai World Trade Centre.
Ericsson will offer interactive demonstrations at its two stands – one in GULFCOMMS, Zabeel Hall, and one in the GITEX Smart Cities pavilion.
Visitors to the booths have the opportunity to sample Ericsson's vision of living in the Networked Society, in which aspects of everyday life are stitched seamlessly together.
During the event, Ericsson will demonstrate its solutions, which enable the development of the Networked Society's smart cities.
These advanced technologies will showcase how life experiences in a smart city are enhanced through more connectivity, with a particular focus on working life, city life and home life, allowing citizens to live and work in more sustainable societies.
Rafiah Ibrahim, President and Head of Middle East and North East Africa, Ericsson, said. "As a provider of information and communications technologies and solutions, we consider ourselves enablers of the Networked Society. Living in a smart city environment will have dramatic lifestyle benefits for all residents, with a hyper-connected environment that is responsive to our everyday needs. The region is transforming towards the Networked Society through mobility. We are glad to be part of this transformation and showcase our capabilities at GITEX."
GITEX Technology Week 2014 will take place from 12th-16th October 2014.