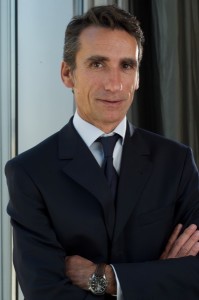 Network security firm Fortinet will showcase its latest Advanced Threat Protection (ATP) framework and Distributed Denial of Service (DDoS) Attack Mitigation Appliances at GITEX Technology Week 2014.
Fortinet offers a range of security solutions based on the FortiOS 5.2and FortiDDoS Attack Mitigation Appliances.
FortiDDoS is 100% based on behaviour-based detection and ASIC DDoS processors.
"Threats are evolving rapidly; the traditional security systems that are still implemented across the region are proving ineffective against today's sophisticated threats," said Alain Penel, Regional Vice President, Middle East, Fortinet. "Look at the volume of data breach incidents that have been reported in 2013 and 2014 to see that there is a real risk for organisations in the region which are not immune. Our participation at GITEX Technology Week will enable us to demonstrate our efforts to help CIOs make decisions. With the growing volume of threats it's imperative that organisations across the region take the necessary measures to protect themselves."
Fortinet will be in hall 2- stand B2 – 1A. during GITEX Technology Week, which runs from October 12th- 16th at the Dubai World Trade Centre.