(DUBAI, 2020): The current global situation has required the adaptation to a 'new normal', a time where social and physical distancing is required along with sanitising procedures. Industries have turned to technology to help its consumers, not only to engage with each other, but to tackle the problems the world is facing today.
IPlan Ideas Technologies (IPI Tech) is a newly launched establishment that offers innovative turnkey technology solutions to a variety of businesses. As a subsidiary of the reputable Hawas Group, IPI Tech has boldly ventured into the many advances in technical ingenuity and creative conceptions from its impressive portfolio of products such as Dimenco with its contactless 3D Interface, robotics with Revotonix to its current exclusive partnership with Ultraleap, a pioneering hand-tracking and mid-haptic technology provider.
IPI Tech, along with Ultraleap, recognised the increasing demand of non-touch technologies and acknowledged the need for communities at large to adjust accordingly to the pandemic situation. As a result, this partnership will provide bespoke contactless technology solutions to the UAE with the aim of expanding throughout the region.
Ultraleap's technology has been applied in various use bases by huge conglomerates across various industries such as Lego, Warner Brothers, Qualcomm, SKODA and many others.
Ultraleap's focus is to provide people with a way to interact with digital content and interfaces naturally-without having to use peripherals, controllers, wear wearables or touch surfaces. When placed in venues, locations and sites that have a high footfall, users can operate with kiosks and touchscreens without touching the screen's surface.
This way of interacting ensures clean, safe and hygienic control and helps to avoid high-risk scenarios and contaminations when it comes to the spread of COVID-19. Furthermore, it enables users to experience unique and modern interaction method helping them to welcome the changes injected by the "new normal".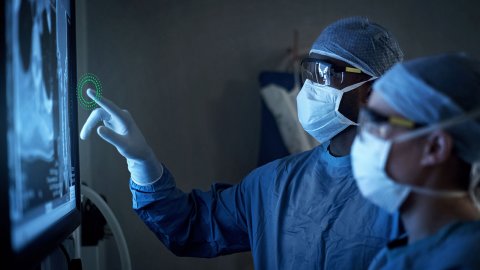 "Touchless gesture-based interfaces are clearly preferred as a future option over touchscreens and counter services," explained Steve Cliffe, CEO of Ultraleap. "Since the main concern for consumers is the unhygienic aspect of public touchscreens, IPI Tech and Ultraleap believe that we can disrupt the current trend regarding the way people interact with digital solutions and services".
A recent Ultraleap survey showed that consumers are twice as likely to interact with touchless gesture interfaces then with touchscreens, even when it comes to counter services for food orders or banking services. With further evidence showing that a common public touchscreen is used as often as 350 times a day by different customers, it is easy for the screens to become contaminated.
Founder of Hawas Group, Ahmed Hawas added: "Touchless design software will become a revolution in sanitation and contactless interactions, drastically affecting public venues such as self-service equipment, cinemas, supermarkets, health centres, public transportation and beyond".
Groundbreaking companies such as IPI Tech, Ultraleap and their innovative products are making strides in today's digital interactive marketplace. They demonstrate the newest advancements in innovations and share the UAE leaders' vision on how technological excellence and industry collaboration contribute to the significant upgrade for a safe and secure living experience.
So, what else does the 'new normal' bring? Thanks to companies like IPI Tech and Ultraleap, the future brings forth an engaging, safe, effortless and above all, contactless interaction between people and machines.