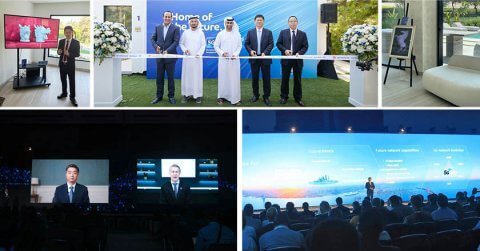 In cooperation with GSMA, GTI, and the SAMENA Telecommunications Council, the 14th Mobile Broadband Forum, hosted by Huawei, took place on October 10 and 11, 2023, in JAFZA1 Convention Centre, Dubai, UAE.
From Oslo in 2010 to Dubai in 2023, the annual forum gathers ICT industry leaders across the globe to discuss the development direction of the mobile communications industry and the infinite possibilities of mobile connectivity. This year's forum provided an exciting opportunity for players in the mobile and adjacent vertical ecosystems to explore 5G business success, promote ecosystem maturity, and accelerate 5.5G commercialisation.
5G deployment has progressed rapidly over the past four years. By June 2023, there were over 260 commercial 5G networks worldwide, more than 1.2 billion 5G users, and over 50,000 5G industry applications. The forum to explored how mobile broadband technology is shaping the future and continually transforming people's lives and industries.
"Technology is changing so fast, and new demands are evolving every day", said Hu. "So our networks need to keep evolving too. Our industry as a whole need to get ready for the future and maximise the value of investments in 5G – and that's why we're working so hard on 5G-Advanced".
Li Peng, Huawei's Corporate Senior Vice President and President of the company's Carrier BG, delivered a keynote at the event. In his speech, Li called on global carriers and industry partners to rise to the occasion, address increasing demands on networks, and make the most of the future trends. According to Li, future mobile networks need to have six key features: 10 Gbps downlink, 1 Gbps uplink, deterministic networking, support for a hundred-billion IoT connections, integrated sensing and communication, and native AI capabilities. To make this happen, carriers and industry players not only need to continuously enhance their capabilities in three core usage scenarios – enhanced mobile broadband (eMBB), massive machine-type communications (mMTC), and ultra-reliable low-latency communication (URLLC) – but also develop three new capabilities, including Uplink Centric Broadband Communication (UCBC) and Real-Time Broadband Communication (RTBC).
Speaking on 5G-Advanced, the next evolutionary step in 5G technology, Li also noted that the industry needs to work together to promote the development of device and application ecosystems, verify use case scenarios, and accelerate the large-scale commercialisation of FWA Square, Passive IoT, and RedCap. These efforts are crucial to make the most of the five new trends that will shape an intelligent digital future.
One day before MBBF started, Huawei in collaboration with du, from Emirates Integrated Telecommunications Company (EITC), unveiled the ground-breaking world's first 5G Advanced (5G-A) demonstration Villa, an archetype for the future smart home living powered by a staggering 10Gbps networks. Early in March this year, both entities signed an MOU on 5.5G centred on 5G-A technological innovation, application exploration, and ecosystem development. This latest reveal stands as a testament to their joint innovation prowess.
5G-A Villa sheds light on the boundless potential that deterministic experience technology heralds for the households of tomorrow. The 5G-A Villa epitomises the seamless integration of cutting-edge technologies, offering an unparalleled smart home experience enriched with applications such as naked-eye 3D and XR. As consumers increasingly crave superior experiences, this inspires the evolution of content and applications, subsequently amplifying the demand on network capabilities. To satiate these growing needs, carriers find themselves compelled to amplify their home networks to a remarkable 10Gbps.
Speaking at the launch, Fahad Al Hassawi, the CEO of du commented, "From the beginning of the 5G era, Fixed Wireless Access (FWA) has been a transformative catalyst, empowering us to deliver cutting-edge solutions to our valued customers. As pioneers, we at du are honoured to pave the way with such novel innovations. Our enduring partnership with Huawei has been fruitful consistently, and with the introduction of FWA², we are poised to redefine the boundaries of user experience, offering our subscribers unparalleled internet connectivity indoors".
As of 2023, the Middle East has seen substantial growth in the adoption of 5G technology. The region was among the first wave of the initial rollout, during the last five years, we have witnessed an aggressive push in the Middle Eastern countries to establish a robust 5G infrastructure. Currently, there are 17 commercial 5G network in the region, covers 48 million population. Many of the major cities across countries such as the UAE, Saudi Arabia, Qatar, Kuwait, Oman and Bahrain have now been covered with 5G networks, with further plans for expansion into suburban and rural areas.
The growth rate of 5G adoption in the Middle East has been praiseworthy. Governments in the region have been supportive, recognizing the transformative potential of 5G. There have been numerous initiatives, investments, and collaborations with global 5G equipment vendors to accelerate deployment.
A new generation of mobile communications technology emerges every ten years or so. Each generation brings with it a significant milestone in the development of mobile communications, and in between full generations, there is an intermediate generation such as 2.5G, 3.5G, and 4.5G. Key features of 5.5G: 10 Gbps downlink, 1 Gbps uplink, 100 billion connections, and native intelligence