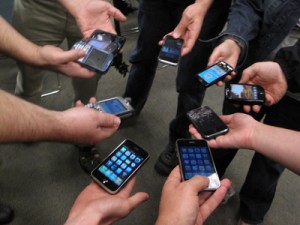 Emerging markets and lower prices will push worldwide smartphone shipments close to the billion-unit level this year, according to the latest forecast by IDC.
That company is predicting total smartphone sales of 958.8 million for the calendar year, marking a nearly 33 percent rise from last year's figure of 722.5 million units.
Nearly two-thirds of all smartphones purchased around the world in 2013 will be bought in developing countries, IDC says, compared to just 43 percent in 2010. Part of that, according to IDC programme manager Ryan Reith, is explained by lower prices.
"Smartphones have become increasingly common in emerging markets and it is often the first affordable means of computing for these markets. These are markets where average personal income is far less than in developed markets, and therefore vendors have been forced to create smartphone computing experiences for the low end of the market," he said in a statement, noting that average prices dropped 8 percent in 2012, and that a further 9 percent is expected this year.
Manufacturers continuing to make 3G phones alongside more expensive 4G models has helped push average costs lower, IDC asserts – older-model wireless technology is far less expensive than top-of-the-line parts. The researchers predict that 71 percent of all smartphones sold in 2013 will be 3G models, and that their market share won't slip below 50 percent until after 2017.
The long-promised shift to a majority-smartphone world will come to pass this year as well, the researchers say, predicting that smart devices would make up 52 percent of the mobile market in 2013. Demand for mobile computing will only continue to rise across the developing world, reinforcing the strong growth trend seen by IDC.
A study from Counterpoint Research published earlier in 2013 pointed to Samsung, Apple and LG as the largest beneficiaries of the swelling market, with the South Korean company alone accounting for 70 million shipments in just the first quarter of the year.