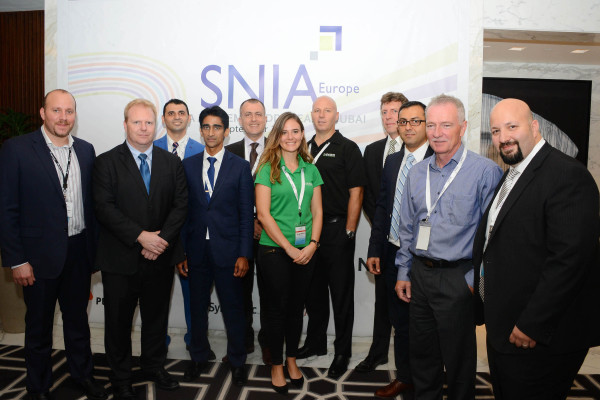 ISIT and the Storage Networking Industry Association of Europe (SNIA Europe), has announced that the pioneering edition of the 'SNIA Middle East Academy,' has concluded on a high-note.
The event which was held at the Sheraton Grand Hotel in Dubai, attracted the participation of more than 120 top industry professionals—taking part in the discussion of market trends in data protection and infrastructure while also showcasing the latest technologies in storage and security industries.
Present during the one-day seminar were leading industry vendors in data protection and infrastructure, end users, qualifying channel partners and local market experts. The latest edition of the event threw the spotlight on key topics and challenges of the industry, which includes the daunting challenges for IT managers to combat the rising volume, cost, and complexity of storage; the need for quick decision making on other issues concerning storage architecture, design, operations and performance. Other topics covered during the event also included the increasing need for state-of-the-art storage technologies such as Software Defined Storage, Solid State Technologies such as Flash, and security best practices for protecting data on storage systems and networks to help enhance and improve efforts in protecting critical data of companies in the Middle East.
"These are truly exciting times for this industry segment as the demand for storage has grown by more than 50 percent Year-on-Year (YoY) in recent years. If storage costs continue their rapid rise then enterprises must learn to efficiently manage storage, particularly if they are to exploit new forms of information such as more detailed financial data, digital images in life sciences or video in media companies," said Mahesh Vaidya, CEO, ISIT and Chairman of Middle East Committee, SNIA Europe. "We are happy at the strong response that we received from this event as it complemented SNIA Europe's efforts to advance the interests of the storage industry by empowering organisations to translate data and information into business value by promoting the adoption of enabling technologies and standards. The initial feedback we received has been overwhelmingly positive and has inspired us to continue to improve the structure and focus of the event to keep it relevant and rewarding for all participants. We are already planning for its next edition in March 2016."
IT vendors like Dell, Netapp, Hitachi Data Systems, Symantec-Veritas, VEEAM and Pure Storage, which are all members of SNIA Europe, shared the latest technology and market trends in data protection and infrastructure during the event. SNIA Middle East Academy also featured talks from top industry experts like Mahesh Vaidya, Chairman-Middle East Committee – SNIA Europe and CEO, ISIT; (Industry Update); Ossama El Samadoni, Vice Chairman-Middle East Committee – SNIA Europe and Director, Storage Solutions, Dell (Designing and Implementing Workload Optimised Storage); Jay Diddigi, Member, Middle East Committee – SNIA Europe, Head of Information Security, ISIT (Practical, Secure Storage – A Vendor Agnostic View); Andrew Mason, Chief Technologist, Middle East & Pakistan, Hitachi Data Systems (Software Defined Foundation for Enterprise Storage); Amer Chebaro, Regional Director  for Gulf & KSA, Symantec-Veritas  (Managing Information in a Hybrid World); Mo Dualeh, Regional Sales Manager for Middle East & N. Africa, Pure Storage (The Impact of using All-Flash Arrays on Mission Critical Application Performance); Lars Ejskjaer, Technical Advisor, Netapp (Software-Defined Storage and Cloud: Get over the gravity of data) and Gregg Petersen, Regional Director, VEEAM (Enable the Always-On Business).