Kaspersky Lab has recently hosted its annual Emerging Market Partner Conference, which gathered more than 100 visitors from 42 countries across Middle East, Latin America, Africa and Eastern Europe in Barcelona, Spain, from 30th May to 2nd June.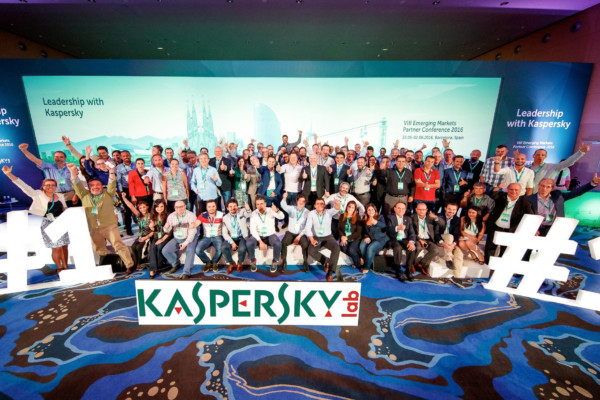 The event allowed partners to learn about the changes happening in cybersecurity from the company's Chairman and CEO, Eugene Kaspersky, and get acquainted with the company's business strategy and development in different segments from top level managers. Attendees also participated in workshops, shared their best practices and received feedback from some of the largest customers. The award ceremony praised a number of partners for their outstanding performance and commitment to Kaspersky Lab's business development.
"This conference was a great opportunity to meet people from very different countries and compare notes with them," said Kaspersky. "Cybercrime is becoming more and more dangerous year by year. I think Latin America, the Middle East, Africa and Eastern Europe are crucial regions in terms of the future of global cybersecurity. Governments, businesses and private individuals there all face very serious challenges. And, together with our partners, we're working very hard to protect them from all the complex cyberthreats out there in the wild."
Kaspersky Lab shared its plans in terms of developing in all the market segments – starting from large Enterprises through SMBs and consumer business. Special attention was paid to enhancements in Enterprise portfolio that go beyond traditional Endpoint market, such as Kaspersky Security Intelligence Services, DDoS protection, Fraud Prevention, and Industrial protection. The company's top managers also discussed with participants the new levels of partner enablement and more support for SMB resellers.
Ovanes Mikhailov, Kaspersky Lab's Managing Director for Emerging Markets and in the Middle East, said, "This year's conference was all about leadership and delivering best-in-class products and support to the client. Kaspersky Lab is totally committed to help its partners support customers and grow businesses together. This is why we are transforming our leading security intelligence into real protection for our clients, addressing the cyber-threats they face today and predicting threats that will get widespread in the future. Our priority is to provide partners with the information, tools and solutions they need in order to grow their security business."
In addition, the highest-performing partners were recognized in several categories within the Award Ceremony:
Rising Star of the Year – the company that grew from Registered to Gold Partner in just one year – Information Security Architects, South Africa.
Project of the Year – two companies: AT Computers & IMPROMAT-COMPUTER, Czech
SMB Partner of the Year – Delta Line, Saudi Arabia.
VSB Champion of the Year – Solo Network, Brazil.
Best Growth in B2B – Zeeyon Computech, Ethiopia.
Non-Endpoint Partner – GMS, Ecuador.
Reseller of the year – Güney Bilişim , Turkey.
Distributor of the Year – Nexsys, Latin America