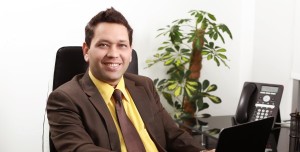 Mitsumi Distribution, a technology and consumer electronics distributors in Africa, has won the 'Africa Distributor of the year' award at the EMEA Channel Academy 2014 Awards, which took place in conjunction with DISTREE EMEA. The distributor categories were voted live at a special awards ceremony by a jury panel of EMEA (Europe Middle East and Africa) level executives.
DISTREE EMEA 2014 held in Monaco from February 11-14th, attracted senior buyers and executives from the region's leading e-tailers, retailers and distributors. More than 150 brands participated, using the event as a platform to manage, build or launch channels across EMEA.
Receiving the award, Mitsumi Managing Director, Mitesh Shah said, "We feel proud to be recognised for this prestigious award. Over the years, Mitsumi Distribution has garnered a reputation as being the most trust-worthy distributor in Africa, thanks to the attention that we pay to our clients. This is the result of our pan-African distribution strategy with a clear regional drive that guarantees our presence on the continent and allows us to launch targeted marketing campaigns to create demand generation."
"As a largest IT & CE African distributor, we understand the broader African continent, Mitsumi has 17 years strong presence in Africa." he added.
Farouk Hemraj, CEO and Co-Founder, DISTREE Events, said: "We would like to congratulate the entire Mitsumi team on winning the Africa Distributor of the Year Award at the 'EMEA Channel Academy: 2014 Awards'. This award demonstrates the strong relationships that Mitsumi has with both its vendor partners, and also its channel customer base, as it develops and expands routes-to-market across the fast-growing African continent."
Mitsumi has 16 point of sale and 12 service centres in East, West and North Africa as well as a strategic warehouse located in Jebel Ali, Dubai in the United Arab Emirates.