Verizon, Sprint, and T-Mobile customers: Motorola's bonafide, American-made Moto X smartphone should be available for purchase within the next few days.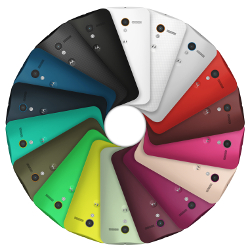 The company's own Vice President of product management, Punit Soni, revealed in a Google Plus post today that both the developer editions and other carrier versions of the handset are "rolling out in days." 
Before you get too excited, Soni didn't mention exactly when the phones will become available. He also failed to mention that if you've been eagerly waiting to design your own smartphone, the option is still limited to AT&T customers, leaving you with the choice between black or white if you're on other any other carrier. The developer edition of the Moto X, on the other hand, will arrive unlocked, and those interested will have to fork over the full unsubsidized price for the device.
If you're curious, you can go and play with the Moto Maker service to customize your own dream phone–and if you really can't wait, the Moto X is available now at AT&T, with the 16GB version priced at $200, and the 32GB version at $250.