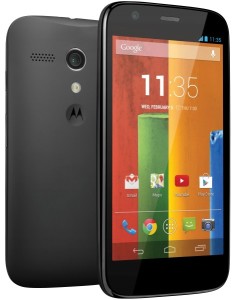 Motorola Solutions has introduced its latest offering in smartphones—Moto G. The company is marketing it as an affordable, no-compromise smartphone.
Priced at Dhs899, Moto G offers a standard smartphone experience for a third of the price of current high-end phones. It comes with 4.5-inch HD display and is equipped with the latest Qualcomm Snapdragon 400 processor featuring a quad-core CPU for seamless multitasking. It runs on Android 4.3 Jellybean and is expected to upgrade to 4.4 KitKat. The smartphone supports dual-sim and offers features of both Motorola and Google. It also comes with 50GB free storage on Google drive for two years.
Consumers also have the option to customise the device by changing the backcover. Termed as Motorola Shells, the covers are available in a wide variety of colours and styles. In addition, the phone is equipped with Grip Shells to give Moto G added protection all around the edges and the front of the display. Plus, Flip Shells on the Moto G can both protect the display and automatically turn it on when you open the cover and off when you close it.