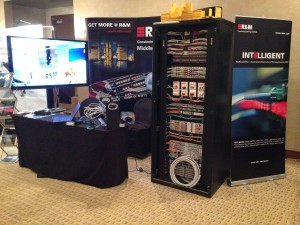 Reichle & De-Massari is participating in and sponsoring the DatacenterDynamics Conference and Expo taking place in Riyadh in December.
R&M will use the event as a platform to highlight its 'R&MinteliPhy' Automated Infrastructure Management solution as well as innovations specifically customised for the requirements of the Middle East's data centre market.
Following DatacenterDynamics Riyadh, R&M will host a data centre seminar on 11 December, 2013.
The event will feature technical presentations on the R&MinteliPhy solution and on data centre innovation. Key IT decision makers from the company's customers in Saudi Arabia are expected to attend the event.
"Saudi Arabia is the largest IT market in the Middle East with spending that is projected to surpass $12.4 billion by 2016. The data center is a key investment area for both government and private enterprises in the country and the move towards more sustainable IT is very evident," said Manzoor Ali, Managing Director, R&M, Saudi, Bahrain and Yemen. "R&M, with its long standing expertise, speed of solutions delivery and commitment to the highest quality is capable of providing high-performance solutions with an unmatched 25 year systems guarantee- thus meeting even the most stringent requirements.
R&M has introduced its R&MinteliPhy AIM retrofittable solution to the Middle East. The system manages documentation, inventory, support in error recovery and automatic detection of switches and end devices.