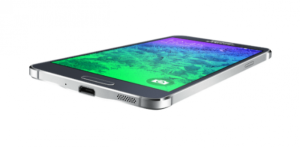 Samsung is coming out with a new phablet, that will incorporate a metal frame, and comes at a "competitive price point", according to the Korean electronics maker.
The A7, unveiled on Monday, comes just a few months after Samsung announced its two smaller siblings, the A5 and the A3, in late October.
The A7, however, is not only bigger with a 5.5-inch high-definition AMOLED display, but also packs more computing power as it combines two separate quad-core processors. In addition, it has a larger battery at 2,600 mAh, but still maintains a thickness of only 6.3 mm, making it actually thinner than the A5 and A3.
The phone runs Android 4.4, has 4G LTE connectivity, and a 13-megapixel rear-facing camera, along with a 5-megapixel front-facing camera. Inside is 2GB of RAM, 16GB of storage and a microSD card slot to add more memory.
Samsung declined to comment on the phone's price or availability.
The smaller Galaxy A5 and A3 models initially targeted the Chinese market, where the South Korean handset maker is facing intense competition from rival vendors such as Xiaomi and Lenovo.
Back in last year's second quarter, Samsung lost its top position as the country's largest smartphone vendor, amidst the entry of more lower-cost phones entering the market.
Samsung lost market share globally in the third quarter of 2014 to about 24 percent from around 32 percent in the same quarter in the previous year, according to research firm Gartner. The company's smartphone shipments dropped to 73 million in the quarter from 80 million in the third quarter of 2013.
The company has hinted that its operating profit in the fourth quarter of 2014 is likely to have fallen by about 37 percent, largely on account of competition from Chinese players.
Phones under the Galaxy A series use a metal frame design, a feature that some reviewers wanted to see in Samsung's Galaxy S5 flagship device.
Originally published on IDG News Service (Beijing Bureau). Reprinted with permission from IDG.net. Story copyright 2018 International Data Group. All rights reserved.